GOODWILL SAN ANTONIO RE-OPENS RETAIL STORES & DONATION LOCATIONS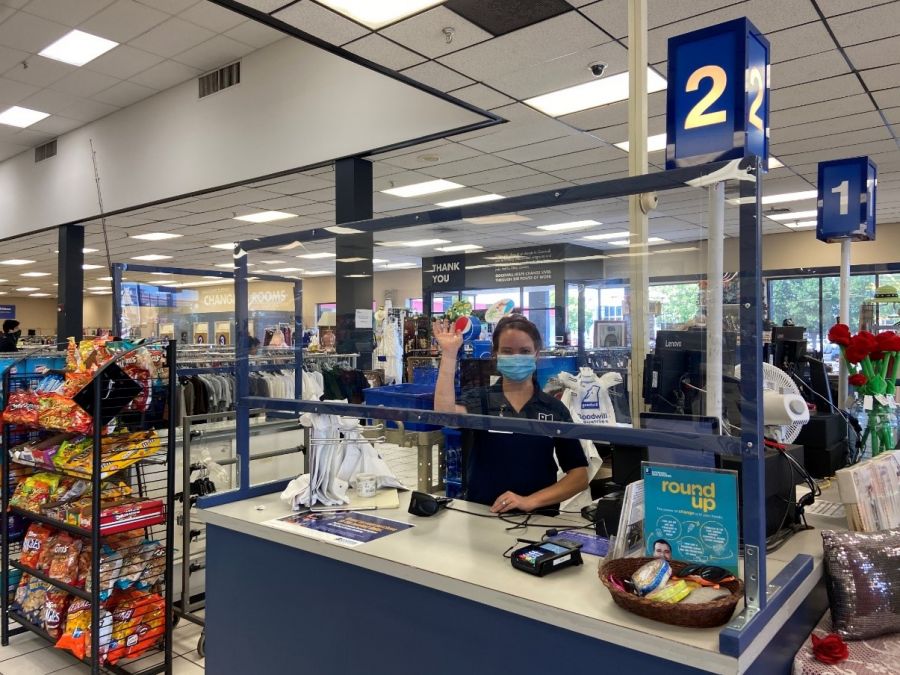 Shopping at Local Non-Profit Funds Job Placement Assistance, Provides Affordable Goods to the Community
 
Goodwill San Antonio has safely re-opened its 23 retail thrift stores and donation locations throughout the communities the non-profit serves in San Antonio, Cibolo, Kerrville, Laredo, New Braunfels, and Seguin, TX. Goodwill San Antonio's Clearance Center and Electronics Store both located at 4810 Eisenhauer Road have also re-opened.
 "We are thrilled to be back at work repurposing donations and offering great values to our customers and communities, says Janice Bunch, president and chief operating officer of Goodwill Industries of San Antonio. We are grateful to our generous donors and shoppers who provide us the means to create jobs and vocational training programs, especially needed in these challenging times. You are also helping to preserve the environment with your Goodwill purchases and donations. Ensuring customer and employee safety throughout our operations has always been a high priority, and is continuously evaluated and adjusted as needed to keep everyone safe throughout this pandemic period. We warmly welcome you back to our stores, stocked throughout the day with unique finds at bargain prices!"
Goodwill San Antonio's hours of operation are as follows:
Goodwill Retail Store Hours:

 10 a.m. to 7 p.m.*, seven days a week

Downtown Goodwill Commerce store closes at 5:00 p.m.

On Sundays, the Goodwill Kerrville store is open from 12:00 p.m. - 5:00 p.m.

Goodwill Electronics Store Hours:

  10 a.m. to 4 p.m., Monday – Friday

Goodwill Clearance Center: 

9 a.m. to 6 p.m., Monday – Sunday

Goodwill Donation Locations:

10 a.m. – 1 p.m. / 2 p.m. – 6 p.m., seven days a week
New safety measures such as plexiglass partitions at registers, six feet social distancing markers, and limited shopper capacity have been implemented to protect the health of customers and employees. A full list of donating/shopping safety processes and expectations is available online at goodwillsa.org/goodwill-san-antonio-re-opening-update.   
For customers who prefer to shop online, donated treasures can also be found at goodwillsa.org/shop/online. Local, contactless curbside pickup is available.
Goodwill San Antonio also collects non-perishable food donations in support of the San Antonio Food Bank.
To find a Goodwill San Antonio store or donation location, visit goodwillsa.org/locations.
About Goodwill Industries of San Antonio
Celebrating 75 years of serving San Antonio, Goodwill San Antonio is a Section 501(c)(3) non-profit social enterprise that helps change lives through the power of work. When you donate to or shop at Goodwill, your purchases and donations help fund jobs, education, training and career services that empower people with disabilities and life barriers with meaningful employment. In addition to operating retail stores and donation stations in San Antonio, Cibolo, Kerrville, Laredo, New Braunfels, Seguin and the surrounding areas, Goodwill San Antonio provides certified vocational training programs through its Good Careers Academy, free employment services through its Good Career Centers, and manages contracts for the U.S. government and local municipalities for outsourced business services ranging from document management and contact center solutions to grounds maintenance and tree care activities through its Business Services operations.
Website:  www.goodwillsa.org
Facebook:  www.facebook.com/GoodwillSanAntonio
Twitter:  www.twitter.com/goodwillsa