GOODWILL SAN ANTONIO OPENS NEW ACCENTS BOUTIQUE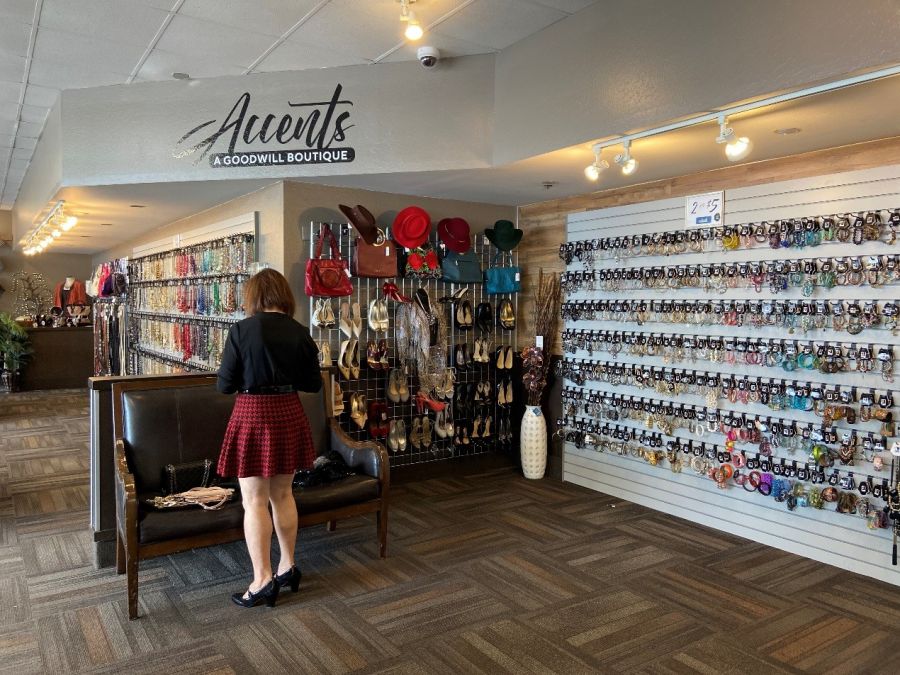 Nonprofit opens new boutique featuring affordable jewelry and stylish accessories for local fashionistas
(SAN ANTONIO –September 21, 2020) – Those looking to add a pinch of panache to their wardrobe will now be able to discover great bargains on baubles of all shapes and sizes at the new Accents – a Goodwill San Antonio Boutique store located at 717 NW Loop 410. The boutique is open daily from 10 a.m. to 7 p.m.
Adjacent to the nonprofit's traditional Blanco store, Accents offers fashion forward shoppers an array of cultivated values on gently-used jewelry, belts, hats, purses, scarves, and other items fit to make a statement. Jewelry has two price points – 2 for $5 and 2 for $10, while other pieces will be priced individually.
Whether treasure seeking for oneself, needing to find the perfect gift, or wanting to accentuate this year's Halloween costume, items at Accents are unique and always different with new items added daily.
The boutique will feature a name brand weekly to include the likes of Brighton, Coach, Kate Spade, Michael Kors, and Vera Bradley.
"The Accents concept is another type of sustainable shopping experience for our customers, where quality jewelry and related accessories have been brought together to help the seasoned accessories enthusiast or fashion novice style to perfection," says George Staska, vice president of donated goods and retail operations for Goodwill San Antonio. "And, just like shopping at our traditional stores, purchases at Accents support our mission of helping individuals prepare for, find and retain employment."
Shoppers will peruse wearable trinkets and treasures in a comfortable environment keeping health and safety paramount. New safety measures such as plexiglass partitions at registers, six feet social distancing markers, and limited shopper capacity have been implemented to protect the health of customers and employees. A full list of shopping safety processes and expectations is available online at goodwillsa.org/goodwill-san-antonio-re-opening-update.   
For 75 years, Goodwill San Antonio has been a leading nonprofit in the local community helping to fight poverty and create opportunity by providing education, training, and careers services to elevate people with disabilities and other life barriers to achieve self-sufficiency. Goodwill San Antonio's stores and donation locations help fund job training, employment placement services, and other important community-based programs.
To learn more about Accents – a Goodwill San Antonio Boutique, visit goodwillsa.org/accents or call (210) 924-8581. Share on social #AccentsGWSA and #GoodFinds.
Accents – a Goodwill San Antonio Boutique                                                                                                               
 717 NW Loop 410                                                                                                                                                           
San Antonio, TX  78216
About Goodwill Industries of San Antonio
Serving San Antonio since 1945, Goodwill San Antonio is a Section 501(c)(3) non-profit social enterprise that helps change lives through the power of work. When you donate to or shop at Goodwill, your purchases and donations help fund education, training and career services to empower people with disabilities and life barriers to find meaningful employment. In addition to operating retail stores and donation stations in San Antonio, Cibolo, Kerrville, Laredo, New Braunfels, Seguin and the surrounding areas, Goodwill San Antonio provides certified vocational training programs through its Good Careers Academy, free employment services through its Good Career Centers, and manages contracts for the U.S. government and local municipalities for outsourced business services ranging from document management and contact center solutions to grounds maintenance and tree care activities through its Business Services operations.
Website:  www.goodwillsa.org
Facebook:  www.facebook.com/GoodwillSanAntonio                                                                                             
Twitter:  www.twitter.com/goodwillsa
###