GOODWILL SAN ANTONIO OPENS DOORS TO NEW STORE LOCATION APRIL 1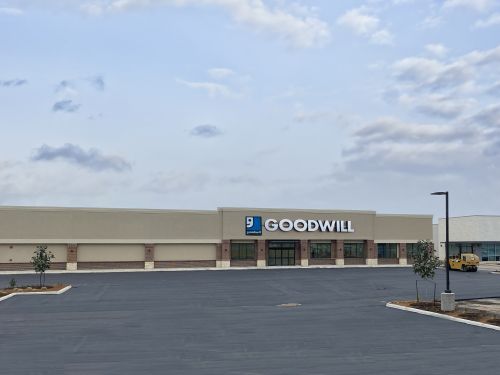 Non-profit preparing to celebrate new store at Blanco Road and Loop 1604 after shuttering locations one year ago  
SAN ANTONIO, TX – (March 29, 2021) – Goodwill San Antonio is preparing to celebrate the opening of its 23rd retail store and donation location at 18478 Blanco Road at Loop 1604 on Thursday, April 1.
Prioritizing health and safety protocols, Goodwill will not hold a traditional ribbon-cutting ceremony; however, customers are invited to shop early for good finds and amazing deals when doors open at 10 am.
The new location across from the Vineyard Shopping Center represents a new beginning and new opportunities to further serve the community as the local non-profit temporarily shuttered all retail operations for six weeks one year ago to help contain the spread of COVID-19.
The loss of revenue in 2020 was a loss of substantial dollars to help fund the agency's mission programs and services it provides those who are underserved and facing significant life barriers to gaining stable employment. The opening of the new Blanco and 1604 store represents an important point of recovery for both the agency and the greater San Antonio community as Goodwill works to provide affordable goods and meaningful job opportunities for all and to especially those who have been negatively impacted by the pandemic.
The 25,000 square foot facility was designed by Open Studio Architecture and project managed by Metropolitan Contracting Company. CSW Development was the developer on the project. The store and drive-thru donation location will create 28 new jobs on the Northside of the city, an area with continued growth and potential.
Hours for the new location will be Monday – Saturday 10 am - 8 pm and Sunday 10 am - 7 pm. New selections of both gently used and brand new treasures can be found daily.
"The community's generous donations and shopping dollars enable Goodwill to support innovative programs that employ and educate those with disabilities and other barriers to workplace success," said Janice Bunch, President and Chief Operating Officer for Goodwill San Antonio. "When you shop with Goodwill, you are helping people and helping the environment. Instead of becoming unnecessary waste, donated clothing and household goods are sold in our stores where they are reused and repurposed in a responsibly sustainable manner."
New safety measures such as plexiglass partitions at registers and six feet social distancing markers have been implemented to protect the health of customers and employees. All customers and staff are required to wear face masks.
A full list of donating and shopping safety processes and expectations is available online at goodwillsa.org/goodwill-san-antonio-re-opening-update.   
To find a Goodwill location near you or to learn more about Goodwill San Antonio's mission to help change lives through the power of work, visit www.goodwillsa.org.
Check in on social #GoodFinds #MoreThanAStore  
About Goodwill Industries of San Antonio
Serving San Antonio since 1945, Goodwill San Antonio is a Section 501(c)(3) non-profit social enterprise whose mission is to help change lives through the power of work. When you donate to or shop at Goodwill, your purchases and donations help fund education, training and career services to empower people with disabilities and life barriers to find meaningful employment. In addition to operating retail stores and donation stations in San Antonio, Cibolo, Kerrville, Laredo, New Braunfels, Seguin and the surrounding areas, Goodwill San Antonio provides certified vocational training programs through its Good Careers Academy, free employment services through its Good Career Centers, and manages contracts for the U.S. government and local municipalities for outsourced business services ranging from document management and contact center solutions to grounds maintenance and tree care activities through its Business Services operations.
Website:  www.goodwillsa.org
Facebook:  www.facebook.com/GoodwillSanAntonio
Twitter:  www.twitter.com/goodwillsa
###