GOODWILL SAN ANTONIO INVITES COMMUNITY TO SHOP SMART AND MAKE A DIFFERENCE ON NATIONAL THRIFT SHOP DAY AUGUST 17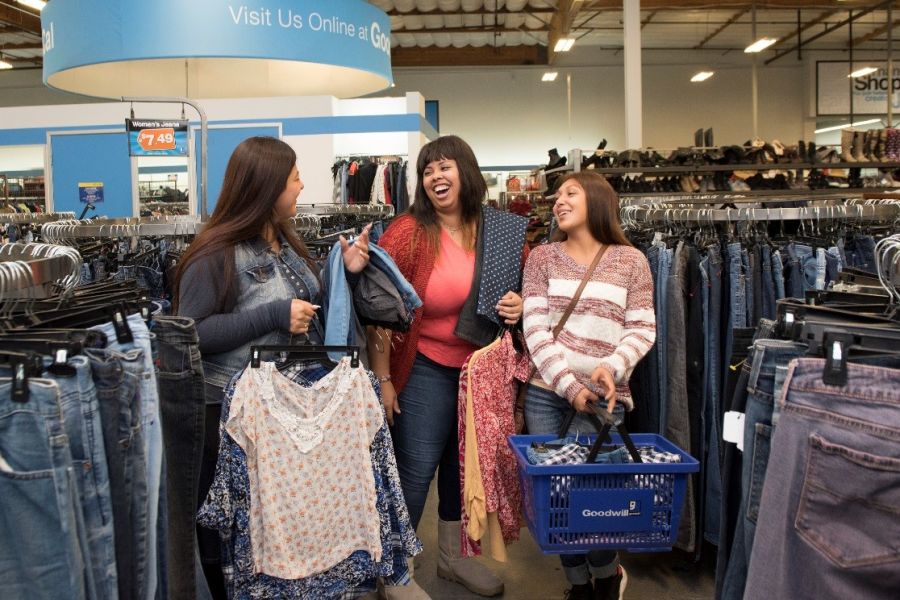 Thrift shopping proves easy on the budget, better for the environment, and supports agency's mission to transforms lives through the power of work
(SAN ANTONIO, TX – Aug. 17, 2020)  Just in time for back to school, Goodwill San Antonio is calling all bargain seekers, treasure hunters, upcyclers and those seeking to make a difference in the community to shop its stores on August 17 in recognition of National Thrift Shop Day. 
National Thrift Shop Day celebrates the excitement associated with finding affordable, one-of-a-kind items while also reducing waste. And although saving money and recycling is en vogue no matter one's income level, shopping thrift becomes even more chic when purchases help make a charitable impact on neighbors who are experiencing challenges.
From antiques and vintage finds, to electronics and affordable furniture, shoppers at Goodwill do more than simply score great deals on gently-used clothing and household items. Each purchase helps fund meaningful education and training programs for people with disabilities, veterans and military families, those who are unemployed or underemployed, at-risk youth and many others facing barriers to employment.
"In 2019, Goodwill San Antonio placed 2,000 people facing significant life barriers into competitive employment, and provided skills training leading to certifications in high demand occupations for more than 800 adults and youth. This success would not be possible without the support of our generous donors and shoppers," stated Penny Benavidez, director of public relations for Goodwill San Antonio. "Every purchase, whether made in-store or online, helps provide needed career services to help people gain and sustain employment so they can lead successful, independent lives."
Part of the fun associated with shopping thrift is never knowing what you will find. With new merchandise being added every hour, Goodwill's 23 stores are retail destinations stocked with new and gently-used clothing, housewares, electronics, books, toys and furniture. Goodwill also offers more treasures and trinkets online at www.goodwillsa.org/shop/shop-online with local, contactless pickup available for customers in the greater San Antonio area.
For back to school and work from home needs, Goodwill San Antonio's Electronic Store offers a variety of quality, refurbished desktop and laptop computer options for students continuing with remote learning. Goodwill has a unique access point to inventory through commercial and residential donations, and is a licensed Microsoft Registered Refurbisher.
In addition to already low prices, Goodwill offers discounts on top of everyday value pricing. Each week, a select group of items tagged with a certain color are offered at 50 percent off. Seniors 55 years of age and older receive 15 percent off on Wednesdays while veterans and active duty military service members receive 15 percent off every day. In recognition of their loved ones service and sacrifice, Gold Star Families receive 15 percent off every day at any Goodwill San Antonio location.
New safety measures such as plexiglass partitions at registers, six feet social distancing markers, and limited shopper capacity have been implemented to protect the health of customers and employees. A full list of donating/shopping safety processes and expectations is available online at goodwillsa.org/goodwill-san-antonio-re-opening-update.   
This National Thrift Shop Day, smart shoppers can look great, save big and help others by finding the fashion to fit their unique style at Goodwill San Antonio.  #BringGoodHome, #NationalThriftShopDay
For information on how store purchases help strengthen the San Antonio community, and to find the nearest Goodwill San Antonio store to visit on National Thrift Shop Day, call (210) 924-8581 or visit www.goodwillsa.org/shop/store-finder.  
About Goodwill Industries of San Antonio
Celebrating 75 years of serving San Antonio, Goodwill San Antonio is a Section 501(c)(3) non-profit social enterprise that helps change lives through the power of work. When you donate to or shop at Goodwill, your purchases and donations help fund jobs, education, training and career services that empower people with disabilities and life barriers with meaningful employment. In addition to operating retail stores and donation stations in San Antonio, Cibolo, Kerrville, Laredo, New Braunfels, Seguin and the surrounding areas, Goodwill San Antonio provides certified vocational training programs through its Good Careers Academy, free employment services through its Good Career Centers, and manages contracts for the U.S. government and local municipalities for outsourced business services ranging from document management and contact center solutions to grounds maintenance and tree care activities through its Business Services operations.
Website:  www.goodwillsa.org
Facebook:  www.facebook.com/GoodwillSanAntonio
Twitter:  www.twitter.com/goodwillsa
###