Spike in secondhand shopping, more people cashing in on resale in San Antonio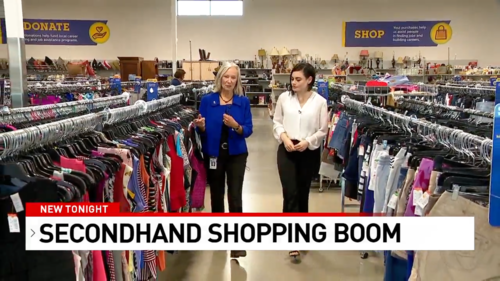 SAN ANTONIO - An increase in secondhand shopping is pushing more people to score deals and turn clothes into cash in the Alamo City.
"A lot of things are just going up and up," said Susan Gomez while shopping at a Goodwill store on Blanco Rd. in San Antonio.
She hopes to save a few bucks on a bag for her laptop.
"Everything has gone high, even at thrift stores," added Gomez.
The secondhand shopping industry gained 177 Billion in global sales last year, based on the latest report from the online marketplace, ThredUp, according to Bloomberg.
"When we opened back up, are you open, slowly customers came back," said Janice Bunch, Chief Operating Officer for Goodwill, San Antonio.
Bunch said over the last year, there has been a rise in people coming in.
"The interest in secondhand shopping itself is driven by more customers, we think."
It's not slowing down anytime soon, thanks to high inflation.
"People are interested in coming in more regularly, multiple times a week, because they see something different every day. We don't expect anything any different this year," added Bunch.
A recent consumer ScoreSense survey showed 55% of people who responded are using coupons, 57% are buying on sale to save, and over 45% are buying store-brand instead of name-brand products.
"Over 30% of the consumers we've spoken with are going through some financial stress with the rising costs and inflation. Finding little ways to make cuts to their daily budget without making great impacts," said Brian Sullivan, Vice President of ScoreSense.
It's a trend Sullivan has been seeing over the last six months,
"We expect people to find different ways to manage their bills. And with that is going to second-hand shopping for clothing and tightening their grocery bills," added Sullivan.
For some, saving extra monthly dollars has turned into reselling gently used clothes in-store or online.
Carla Rodriguez dropped by Uptown Cheapskate on Huebner Rd. to do just that.
"I decided to get some extra cash. I was able to make 30 dollars in 30 minutes. All the clothes I don't want anymore I know I won't wear again," said Rodriguez
It's an increase; the owner of Uptown Cheapskate in San Antonio said is seeing for himself.
"Wait times were getting to 2 to 3 – 4 hours," said Roberto Buenrostro.
At times, lines are out the door.
"You've got people waiting before we open the doors to come in and sell," added Buenrostro.
According to a 2023 ThredUp report, the U.S. secondhand market is expected to reach 70 Billion by 2027. It also states re-sales are expected to grow nine faster by the same year.
"People are always looking for a bargain," said Buenrostro.
Whether you're looking to buy clothes, shoes, or electronics this Summer, the key is to shop early.
"Absolutely, come every day," said Bunch.
Published on July 17, 2023 - News4SanAntonio