Google Fiber Awards Community Sponsorship to Goodwill San Antonio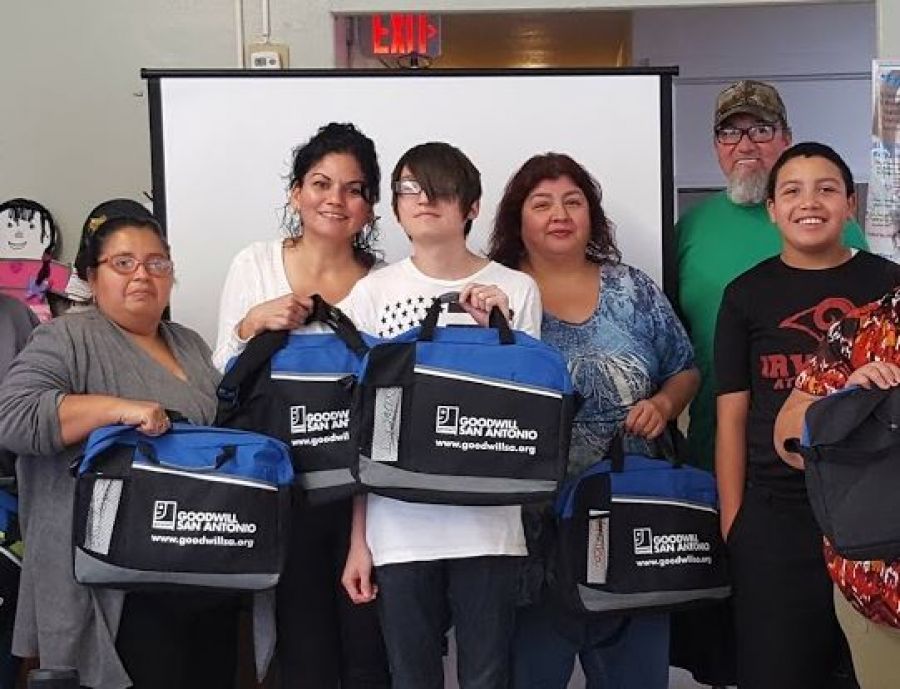 $30,000 Awarded to Goodwill to be used for San Antonio Housing Authority Digital Inclusion Partnership (SAN ANTONIO, TEXAS, Sept. 26, 2019) — Goodwill San Antonio has received a $30,000 sponsorship in support of its digital inclusion initiatives as a part of Google Fiber's commitment to broadening access and building digital literacy in each of their communities.
With support from Google Fiber, Goodwill San Antonio's Electronics and Technology Access Program, will provide 400 refurbished laptops equipped with Microsoft Windows 10 Professional to San Antonio Housing Authority (SAHA) residents who successfully complete digital skills training and job readiness programs as part of SAHA's ConnectHomeSA program.
"Digital inclusion is paramount to empowering individuals to reach their fullest potential," stated Angelika Kluna, Senior Electronics Program Manager for Goodwill San Antonio. "This sponsorship will allow us to provide computers that help facilitate digital skills training to San Antonio Housing Authority residents, helping ensure they have access not only to the technology itself, but to the opportunities technology provides – from completing college and employment applications, to information sharing, and managing everyday tasks such as bill paying and healthcare needs."
ConnectHome was established as part of the 2015 initiative under the President Barak Obama Administration to join communities, private sector, and the federal government to accelerate the adoption and utilization of broadband internet among children and families living in assisted housing.
"Only half of the lowest income families across the United States have internet connectivity in their homes, creating a digital divide. ConnectHomeSA would not be possible without the enthusiastic support of Google Fiber and Goodwill San Antonio, who provide the funds and the talent to develop solutions that work for San Antonio," said David Nisivoccia, President and CEO for the San Antonio Housing Authority.
 Goodwill San Antonio's Technology Access Program and its valued partnership with the San Antonio Housing Authority provides individuals and families who are disconnected to technology a pathway to digital inclusion. By increasing access to technology, vulnerable members of the local community are empowered with equal opportunities to pursue education, training, and employment, which can lead to economic prosperity and self-sufficiency.
"We're proud to be able to assist Goodwill San Antonio and SAHA in this important work," said Clarissa Ramon, Google Fiber San Antonio Government & Community Affairs Manager. "Google Fiber believes in the opportunity the Internet presents, and we will continue to work to increase access to the Internet, to devices, and to digital skill building across San Antonio."
Since September 2016, Goodwill San Antonio has provided more than 1,200 refurbished laptops to the San Antonio Housing Authority in support of the ConnectHomeSA program.
About Goodwill Industries of San Antonio
Serving San Antonio since 1945, Goodwill San Antonio is a Section 501(c)(3) non-profit social enterprise that helps change lives through the power of work. When you donate to or shop at Goodwill, your purchases and donations help fund education, training and career services to empower people with life barriers to find meaningful employment. In addition to operating retail stores and donation stations in San Antonio, Cibolo, Kerrville, Laredo, New Braunfels, Seguin and the surrounding areas, Goodwill San Antonio provides certified vocational training programs through its Good Careers Academy, free employment services through its Good Career Centers, and manages contracts for the U.S. government and local municipalities for outsourced services ranging from document management and contact center solutions to grounds maintenance recycling activities through its Business Services operations.
Website: www.goodwillsa.org
Facebook: www.facebook.com/GoodwillSanAntonio
Twitter: www.twitter.com/goodwillsa
About the San Antonio Housing Authority:
SAHA provides housing assistance to over 65,000 children, adults and seniors through its Public Housing, Section 8 Housing Choice Voucher and Mixed-Income housing programs. The Agency employs more than 500 individuals, with an annual operating budget of $186 million, and real estate assets valued at over $500 million. SAHA's affordable housing programs include 71 public housing properties, more than 13,000 vouchers in the Housing Choice and Special Voucher Programs, and 45 properties in a MixedIncome portfolio. The Agency empowers and equips families to improve their quality of life and to achieve economic stability through its commitment of funding and allocated resources, and with the direct involvement of local partners.