GOODWILL SUPPORTING THE SAN ANTONIO FOOD BANK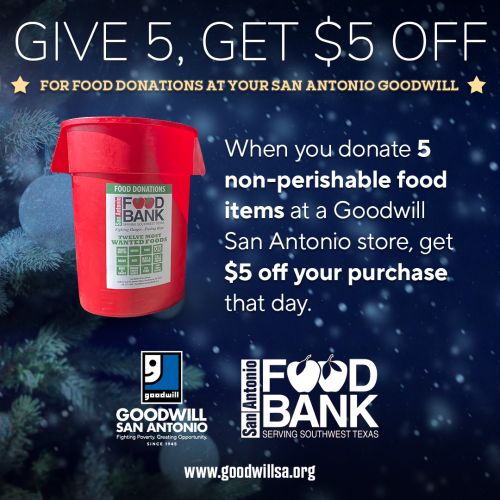 GIVE 5, GET $5 CAMPAIGN
(SAN ANTONIO – December 21, 2020) – During this holiday season, Goodwill San Antonio is sharing their goodwill and asking others to do the same in support of the San Antonio Food Bank.
With many individuals and families out of work and struggling to put food on the table as a result of the pandemic, Goodwill San Antonio is asking those who are able to donate 5 non-perishable food items to their nearest Goodwill San Antonio store. In return for food donations, Goodwill will provide each donor with a coupon for $5.00 off a Goodwill store purchase to be used that day.
The twelve most wanted food items for the San Antonio Food Bank include:  Peanut butter, cereal, tuna, beans, rice, mac & cheese, chili & soups, baby food & diapers, canned lunch meat, pet food, full meals can/box, pop top food items.
"Goodwill San Antonio is proud to support the San Antonio Food Bank whose work is helping to feed thousands of individuals and families in need this holiday season," said Penny Benavidez, director of public relations for Goodwill San Antonio. " As a partner non-profit, our two organizations have seen the need in our community increase significantly as a result of this year's challenges. Together we are stronger, and together, we can help serve the needs of our city by helping neighbors overcome food insecurity, unemployment, and other life barriers. "
The "Give 5, Get $5" campaign is good through the end of the year, however, Goodwill San Antonio is proud to be a convenient place to drop off San Antonio Food Bank donations throughout the year. All San Antonio area Goodwill stores and donation centers have a San Antonio Food Bank red barrel for non-perishable food donations.
Goodwill San Antonio's stores and donation locations help fund important community-based programs that make a difference in someone's life while also helping to divert millions of pounds of useable items from landfills. Instead of becoming unnecessary waste, donated clothing and household goods are sold in Goodwill stores, where they can be reused and repurposed in a responsibly sustainable manner.
To learn more about Goodwill San Antonio's mission to help change lives through the power of work, or to find your nearest Goodwill store visit www.goodwillsa.org/shop.
About Goodwill Industries of San Antonio
Serving San Antonio since 1945, Goodwill San Antonio is a Section 501(c)(3) non-profit social enterprise that helps change lives through the power of work. When you donate to or shop at Goodwill, your purchases and donations help fund education, training and career services to empower people with disabilities and life barriers to find meaningful employment. In addition to operating retail stores and donation stations in San Antonio, Cibolo, Kerrville, Laredo, New Braunfels, Seguin and the surrounding areas, Goodwill San Antonio provides certified vocational training programs through its Good Careers Academy, free employment services through its Good Career Centers, and manages contracts for the U.S. government and local municipalities for outsourced business services ranging from document management and contact center solutions to grounds maintenance, tree care activities, and electronics recycling through its Business Services operations.
Website:  www.goodwillsa.org
Facebook:  www.facebook.com/GoodwillSanAntonio
Twitter:  www.twitter.com/goodwillsa
About the San Antonio Food Bank
The San Antonio Food Bank is a 501c3 non-profit organization providing millions of pounds of food to more than 500 charitable organizations in Southwest Texas serving those in need. In addition to food distribution, the San Antonio Food Bank provides numerous programs that not only solve the immediate problems of hunger, but help individuals and families gain long-term food security. For more information about the San Antonio Food Bank, visit our website at www.safoodbank.org. Find us on Facebook at www.facebook.com/safoodbank or follow us on Twitter at www.twitter.com/safoodbank.
###