GOODWILL SAN ANTONIO OFFERING VIRTUAL CAREER COACHING, JOB SEARCH ASSISTANCE SERVICES DURING COVID-19 PANDEMIC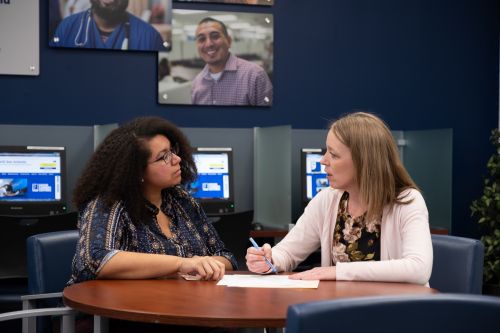 Local non-profit provides virtual career services, lists employers who are hiring on website
Goodwill Industries of San Antonio remains committed to serving local residents with career coaching and job search assistance by transitioning its Good Careers Center operations to virtual services in response to the COVID-19 pandemic.
Job-seekers in the San Antonio metropolitan area have access to career coaching, resume writing, interview coaching, job search assistance, and connection to community resources to address basic needs by contacting a Goodwill San Antonio Career Services Associate by phone at (210) 756-4800 or via email at GCCManagement@goodwillsa.org. 
In response to these challenging times, Goodwill San Antonio has also put together a resource page on the agency's website that includes a current list of employers who are hiring and links to online job readiness tools and other community resources at goodwillsa.org/employers-hiring .
"While the COVID-19 situation is currently affecting our economy and job opportunities are becoming more challenging to find, Goodwill San Antonio is dedicated, now more than ever, to continue providing meaningful education and employment services to the community as we have done for the past 75 years," said Angelique De Oliveira, chief mission services officer for Goodwill San Antonio. "The health and safety of our clients and employees is paramount. Through easily accessible virtual means, Goodwill is here to support individuals with education and employment services to help them achieve financial stability and personal success."
The nonprofit has temporarily suspended its public facing operations to include its retail stores and donation locations in order to help contain the spread of COVID-19. Unlike many nonprofits who rely on philanthropic donations to support programs, Goodwill San Antonio uses revenue generated from donated goods purchased through its retail stores to help fund the organization's Good Careers Academy and Good Careers Center services. To support Goodwill's education and job training resources with a monetary donation while the agency's doors are closed, please visit www.goodwillsa.org/maintaining-mission.
To learn more about Goodwill San Antonio's resources for job seekers, visit www.goodwillsa.org/employers-hiring or contact a Careers Services Associate by phone at (210) 756-4800 or via email at GCCManagement@goodwillsa.org.
About Goodwill Industries of San Antonio
Serving San Antonio since 1945, Goodwill San Antonio is a Section 501(c)(3) non-profit social enterprise whose mission is to help change lives through the power of work. When you donate to or shop at Goodwill, your purchases and donations help fund education, training and career services to empower people with disabilities and life barriers to find meaningful employment. In addition to operating retail stores and donation stations in San Antonio, Cibolo, Kerrville, Laredo, New Braunfels, Seguin and the surrounding areas, Goodwill San Antonio provides certified vocational training programs through its Good Careers Academy, free employment services through its Good Career Centers, and manages contracts for the U.S. government and local municipalities for outsourced business services ranging from document management and contact center solutions to grounds maintenance and tree care activities through its Business Services operations.
Website:  www.goodwillsa.org
Facebook:  www.facebook.com/GoodwillSanAntonio
Twitter:  www.twitter.com/goodwillsa