GOODWILL SAN ANTONIO NAMES NEW CEO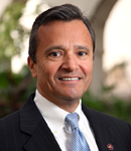 Carlos J. Contreras, III named non-profit's new CEO
(SAN ANTONIO – February 1, 2021) –Goodwill San Antonio has named Carlos J. Contreras, III, as its CEO. Contreras joins the organization from the City of San Antonio, where he has served since 2009, most recently as Assistant City Manager responsible for the city's departments of aviation, convention and sports facilities, economic development, government and public affairs, and Pre-K4SA.
A national search for Goodwill San Antonio's top executive was launched following CEO Kevin Bergner's announcement last year that he would retire in 2021.
"We are excited to welcome Carlos to Goodwill San Antonio," said John Matey, Chairman of the Board for Goodwill San Antonio. "We believe Carlos' record of success in both the public and private sectors – as well as in the community at large – is ideally suited to help Goodwill San Antonio grow and thrive in our mission to help change lives through the power of work. He has deep experience with providing visionary leadership to large and complex organizations, very much like Goodwill Industries."
Prior to joining the City of San Antonio in 2009, Contreras led government affairs efforts for the San Antonio division of nationwide homebuilder KB Home (NYSE: KBH). Earlier he engaged in the practice of law for nearly 15 years, with legal concentration on administrative, legislative, and regulatory law, as well as corporate and general counseling.
"I am honored to be selected as the next CEO of Goodwill San Antonio," Contreras said. "The organization has done great work over the past 76 years, and as it responds to the pandemic, is positioned to grow its impact in 2021 and beyond. I look forward to joining Goodwill's talented and mission-driven team and to becoming a part of their efforts to fight poverty and create opportunity for our community."
Contreras holds juris doctor and master of public affairs degrees from the University of Texas at Austin, and an undergraduate degree from St. Mary's University. The San Antonio native is expected to join Goodwill San Antonio in April.
"We look forward to welcoming Carlos, who brings an impressive record of public service and a wonderful heart for taking care of this community and his employees," said current CEO Kevin Bergner.
Goodwill San Antonio's board of directors selected Lehman Associates of Austin to conduct the executive search for the organization.
About Goodwill San Antonio
Serving San Antonio since 1945, Goodwill San Antonio is a Section 501(c)(3) non-profit social enterprise whose mission is to help change lives through the power of work. When individuals donate to or shop at Goodwill, those donations and purchases help fund education, training, and career services to empower people with disabilities and life barriers to find meaningful employment. In addition to operating retail stores and donation stations in San Antonio, Cibolo, Kerrville, Laredo, New Braunfels, Seguin, and the surrounding areas, Goodwill San Antonio provides certified vocational training programs through its Good Careers Academy, offers free employment services through its Good Career Centers, and manages contracts for the U.S. government, local municipalities, and corporate partners for outsourced business services ranging from document management and contact center solutions to grounds maintenance and tree care activities through its Business Services operations. For more information on the organization, visit www.goodwillsa.org.