GOODWILL SAN ANTONIO HOSTS FREE VIRTUAL INTERVIEW WORKSHOP MARCH 16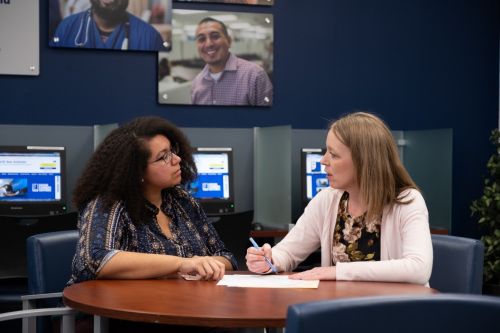 Local Non-profit Committed to Helping Community Members Find Jobs   
SAN ANTONIO, TX – (March 14, 2021) – With a 6.6% unemployment rate in Bexar County as of January 2021 and virtual interviewing becoming the new normal in the wake of the pandemic, Goodwill San Antonio is helping local job seekers successfully prepare for virtual interviews by hosting a free online "Ace Your Good Virtual Interview" workshop on Tuesday, March 16. The 60-minute workshop will be offered during two separate sessions, the first at 10 a.m. followed by a second session at 2 p.m.
The online workshops will be conducted by Goodwill's Good Careers Center team and will help attendees successfully prepare for virtual interviews by teaching job seekers effective strategies for connecting with potential employers. In these workshops, attendees will learn about virtual interview formats, appropriate equipment and setting needs, potential questions to be asked, and how to follow up after an interview.
"Ace Your Good Virtual Interview" Online Workshop
Tuesday, March 16, 2021
Sessions at 10 a.m. and 2 p.m.
Those interested in attending can register by calling (210) 756-4800 or emailing the Good Careers Center team at GCCManagement@goodwillsa.org. Anyone unable to attend the workshop can make an appointment for one-on-one assistance with a career specialist.
Goodwill San Antonio's Good Careers Centers provide area job seekers access to career coaching, resume writing, interview coaching, job search assistance, and connection to community resources to address basic needs. In response to these challenging times, Goodwill has also placed a resource page on the agency's website that includes a current list of employers who are hiring and links to online job readiness tools and other community resources at goodwillsa.org/employers-hiring .
To learn more about Goodwill San Antonio's resources for job seekers, visit http://bit.ly/GWSAGCC or contact a Careers Services Associate by phone at (210) 756-4800 or via email at GCCManagement@goodwillsa.org.
About Goodwill Industries of San Antonio
Serving San Antonio since 1945, Goodwill San Antonio is a Section 501(c)(3) non-profit social enterprise whose mission is to help change lives through the power of work. When you donate to or shop at Goodwill, your purchases and donations help fund education, training and career services to empower people with disabilities and life barriers to find meaningful employment. In addition to operating retail stores and donation stations in San Antonio, Cibolo, Kerrville, Laredo, New Braunfels, Seguin and the surrounding areas, Goodwill San Antonio provides certified vocational training programs through its Good Careers Academy, free employment services through its Good Career Centers, and manages contracts for the U.S. government and local municipalities for outsourced business services ranging from document management and contact center solutions to grounds maintenance and tree care activities through its Business Services operations.
Website:  www.goodwillsa.org
Facebook:  www.facebook.com/GoodwillSanAntonio
Twitter:  www.twitter.com/goodwillsa
*Photos and client interviews can be made available upon request.
###