GOODWILL SAN ANTONIO HOSTING FREE CAREER SERVICES TRAINING FOR VETERANS SEEKING CIVILIAN EMPLOYMENT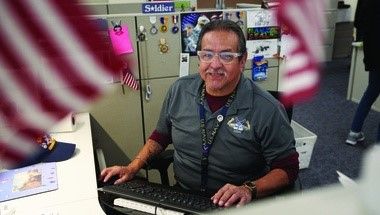 Local nonprofit providing tips and strategies to help veterans and transitioning service members gain jobs
WHAT:  In recognition of Veterans Day, Goodwill Industries of San Antonio is hosting a free virtual career services webinar tailored to veterans and transitioning service members seeking civilian employment.
The one-hour webinar will provide attendees tips for how to best write a resume and apply for jobs. Attendees will also have the opportunity to hear from an employer with a veteran's hiring initiative.
Training will specifically focus on:
Translating military skills and experiences to the civilian world

Tailoring a resume to specific job listings

Incorporating key words to make a resume stand out from the competition
Presenters Include:
Samantha McKelligan-Sarabia

, Talent Acquisition Specialist for Security Services FCU

Sharon Frey

, Recruitment and Staffing Administrator for the City of San Antonio
WHEN:  Tuesday, November 10, 2020 from 2:00 – 3:00 p.m. CST
WHERE:  Goodwill San Antonio Webinar
Register online at Goodwill San Antonio's Facebook page https://www.facebook.com/events/419277909067763/
Or call (210) 756-4800 for more information.
Event Zoom Link: https://zoom.us/j/97472629866?pwd=SUJ1Y1RCNEFET3BOOGwvakJLOTVaUT09 
WHO:  Veterans, transitioning service members, and job-seekers in the San Antonio metropolitan area are encouraged to access free career coaching, resume writing, interview coaching, job search assistance, and connection to community resources to address basic needs by contacting a Goodwill Career Services Associate by phone at (210) 756-4800 or via email at GCCManagement@goodwillsa.org. 
In response to these challenging times, Goodwill San Antonio has also put together a resource page on the agency's website that includes a current list of employers who are hiring and links to online job readiness tools and other community resources at goodwillsa.org/employers-hiring.
WHY:  For 75 years, Goodwill San Antonio has been a leading nonprofit in the local community helping to fight poverty and create opportunity by providing education, training, and career services to elevate people with disabilities and other life barriers to be successful and to gain self-sufficiency.
In 2019, Goodwill San Antonio assisted nearly 650 veterans in their career search.
Goodwill San Antonio also recognizes the service and sacrifice of active and retired U.S. Military men and women and Gold Star Families by offering the following discounts in the nonprofit's thrift stores:
Gold Star Families: 

Receive 15% off every day at any Goodwill San Antonio store location.

U.S. Military (Active and Retired)

: 

Receive 15% off every day at any Goodwill San Antonio store

location.(Government Issued ID required to receive discount.)
To learn more about Goodwill San Antonio's resources for job seekers, visit www.goodwillsa.org/employers-hiring or contact a Careers Services Associate by phone at (210) 756-4800 or via email at GCCManagement@goodwillsa.org.
About Goodwill Industries of San Antonio
Serving San Antonio since 1945, Goodwill San Antonio is a Section 501(c)(3) non-profit social enterprise that helps change lives through the power of work. When you donate to or shop at Goodwill, your purchases and donations help fund education, training and career services to empower people with disabilities and life barriers to find meaningful employment. In addition to operating retail stores and donation stations in San Antonio, Cibolo, Kerrville, Laredo, New Braunfels, Seguin and the surrounding areas, Goodwill San Antonio provides certified vocational training programs through its Good Careers Academy, free employment services through its Good Career Centers, and manages contracts for the U.S. government and local municipalities for outsourced business services ranging from document management and contact center solutions to grounds maintenance and tree care activities through its Business Services operations.
Website:  www.goodwillsa.org
Facebook:  www.facebook.com/GoodwillSanAntonio
Twitter:  www.twitter.com/goodwillsa
###