Goodwill San Antonio Honors 17 Recent Graduates November 8th, 2019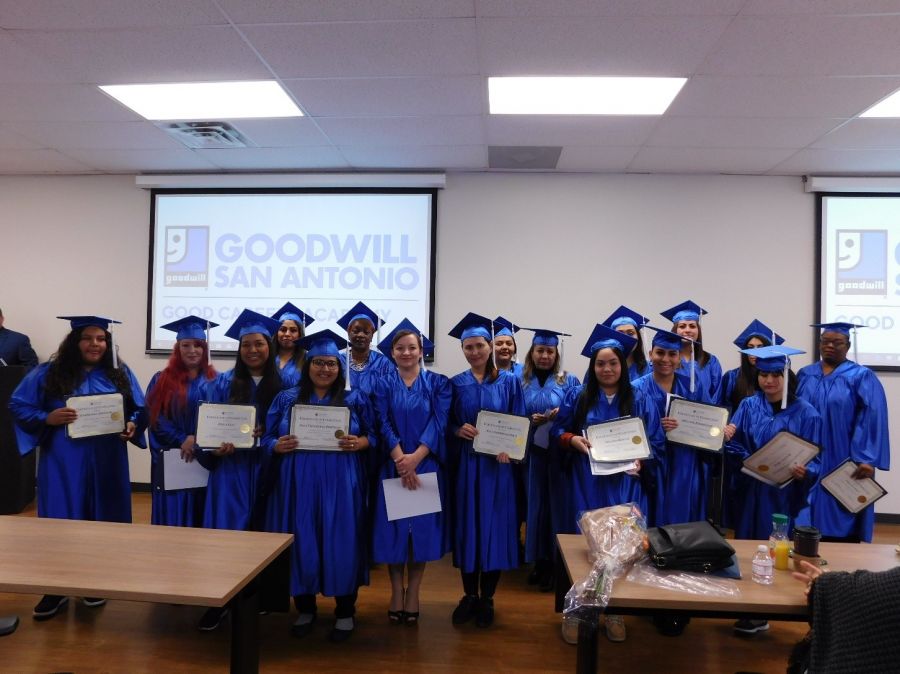 (SAN ANTONIO – November 11, 2019) -  Goodwill San Antonio celebrated the accomplishments of 17 Good Careers Academy students at a graduation ceremony held on Friday, November 8 at the downtown Good Careers Academy location. Among those recognized were students who worked diligently and demonstrated courage and commitment to overcome multiple life barriers to complete studies in either the Nursing Assistant, Medical Assistant or Pharmacy Technician programs.
Donned in traditional cap and gown attire, graduates proudly received their certificates from supportive instructors in front of a room full of family and friends. The ceremony was the first time several individuals within the graduating class had ever walked a stage to be recognized.
For Medical Assistant graduate, Esmeralda Apolinar, Good Careers Academy meant a second chance to better herself and provide a brighter future for her six-year-old daughter. Minutes before the start of the ceremony, her daughter looked up and said, "I want to be like you Mom." 
"It means the world because my daughter can look at me and tell me that she wants to grow up and be exactly like me and finish school and graduate," says Apolinar. "That's all I really want for her – to never give up in life and to always keep going no matter what road she goes down. Education is important, and it always will be."
Today's economy presents a significant gap between the types of jobs available and a skilled workforce available to fill open positions, with almost a fourth of employed adults having to work multiple jobs in order to earn a living wage.
Goodwill San Antonio's Good Careers Academy provides affordable, short-term vocational certification training in demand-driven occupations. The Academy's accredited programs in the medical, construction, and commercial driver's license fields are structured to upskill minimum wage earners, helping create career paths so individuals can advance up the ladder of economic opportunity.
"At Good Careers Academy, our goal is to prepare students for well-paying, high-demand careers while providing a skilled, job ready-workforce to local employers," says Todd Rich, senior education training manager for Goodwill San Antonio. "We believe education should be both accessible and affordable. As a non-profit, we are able to provide financial and direct one-on-one support to students that many organizations cannot."
The general demographic for a Good Careers Academy student is a single mom in her mid-to-late 20's, living on or under the poverty line.
In 2018, 820 adults and youth received vocational skills training through Good Careers Academy. The Academy has a 72% placement rate and an 88% certification rate, both above the current industry standards of 60%.
To learn more about Goodwill San Antonio's Good Careers Academy, call (210) 924-8581 or visit www.goodcareersacademy.com. 
About Goodwill Industries of San Antonio
Serving San Antonio since 1945, Goodwill San Antonio is a Section 501(c)(3) non-profit social enterprise that helps change lives through the power of work. When you donate to or shop at Goodwill, your purchases and donations help fund education, training and career services to empower people with life barriers to find meaningful employment. In addition to operating retail stores and donation stations in San Antonio, Cibolo, Kerrville, Laredo, New Braunfels, Seguin and the surrounding areas, Goodwill San Antonio provides certified vocational training programs through its Good Careers Academy, free employment services through its Good Career Centers, and manages contracts for the U.S. government and local municipalities for outsourced business services ranging from document management and contact center solutions to grounds maintenance and tree care activities through its Business Services operations.
###