GOODWILL SAN ANTONIO ELECTRONICS STORE OFFERING DISCOUNT ON REFURBISHED LAPTOPS FOR BACK TO SCHOOL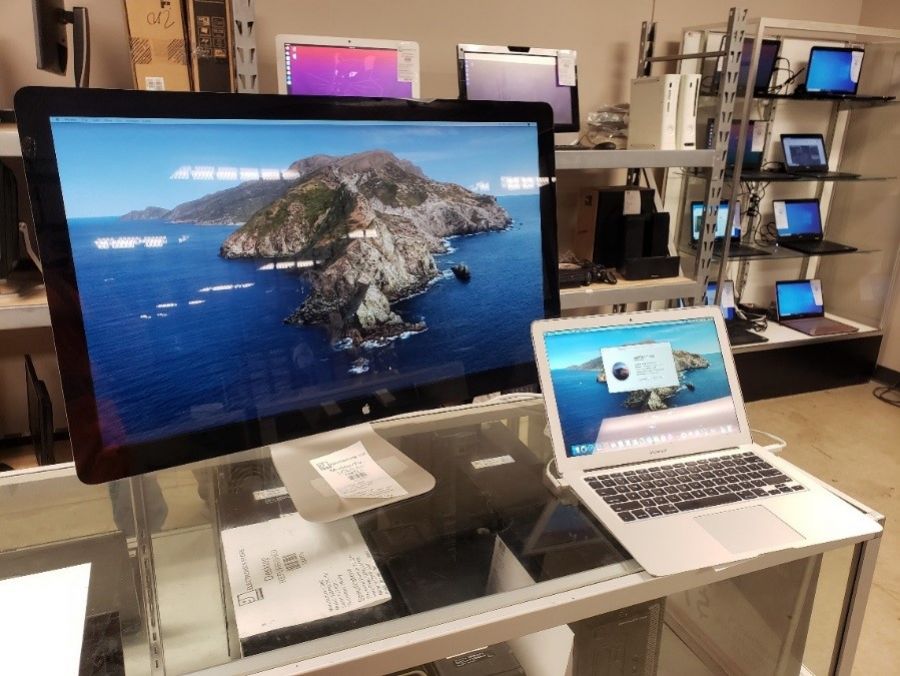 Local non-profit offering a 15% discount on refurbished laptops through online, contactless Back to School Sale
 
(SAN ANTONIO –August 5, 2020) – With remote learning continuing with the start of the school year in just a few weeks and nearly 60% of San Antonio households with children sharing a computer at home, Goodwill San Antonio's Electronics Store is offering families a way to save on needed electronics to support distance learning activities. Individuals can receive 15% off already discounted, quality refurbished laptops from August 6th – 10th .
Keeping the health and safety of customers paramount, the sale is being presented online with contactless payment and pickup available.
Sale Details are as follows:
View online laptop inventory at

www.goodwillsa.org/electronics

after 6:00 p.m. on Thursday, Aug. 6th  
Email order to:

ElectronicStore@goodwillsa.org

and include the following information:

Asset/Part#

First and Last Name

Contact Email and Phone Number

Subject Line:  "Ready to Buy Asset #"
 A confirmation email will be sent with a link to the invoice on Monday, August 10th .
Customers must pay for their order by 10:00 a.m. on Tuesday, August 11th by credit card via PayPal (no account needed).
After payment is confirmed, a contactless, curbside appointment will be scheduled. Pickups start at 10:00 a.m. on Tuesday, August 11th.
According to the U.S. Census Bureau, one in four San Antonio households lack internet access and approximately one in six households do not have a computer. The pandemic has accelerated the need for businesses, health services, and education to transition to virtual connection, and Goodwill San Antonio is responding to the need for greater access through its electronics store and technology access program.
"Digital inclusion is paramount to empowering individuals to reach their fullest potential," stated Angelika Kluna, Senior Electronics Program Manager for Goodwill San Antonio. "Now, more than ever, our mission is to responsibly refurbish electronic devices and put them back into the community in order for local residents and students to have access not only to the technology itself, but to the opportunities technology provides – from obtaining an education and completing employment applications, to information sharing, and managing everyday tasks such as bill paying and healthcare needs."
Goodwill San Antonio is uniquely qualified to offer technology as part of their Business Services operation. Not only does Goodwill have a unique access point to inventory through commercial and residential donations, they are also a licensed Microsoft Registered Refurbisher.
For individuals who do not have access to a computer or mobile device to view inventory and place an order, the Electronics Store is open to customers Monday – Friday from 10:00 a.m. – 4:00 p.m. inside the Goodwill Clearance Center at 4810 Eisenhauer Road, San Antonio, TX  78218. Facial coverings are required and new safety measures such as plexiglass partitions at the register, six feet social distancing markers, and limited shopper capacity have been implemented to protect the health of customers and employees.
To learn more about Goodwill San Antonio's Electronic Store and Technology Access Program, visit goodwillsa.org/shop/electronics-store or call (210) 271-8806. Those interested can also send an email to ElectronicStore@goodwillsa.org.
About Goodwill Industries of San Antonio
Celebrating 75 years of serving San Antonio, Goodwill San Antonio is a Section 501(c)(3) non-profit social enterprise that helps change lives through the power of work. When you donate to or shop at Goodwill, your purchases and donations help fund jobs, education, training and career services that empower people with disabilities and life barriers with meaningful employment. In addition to operating retail stores and donation stations in San Antonio, Cibolo, Kerrville, Laredo, New Braunfels, Seguin and the surrounding areas, Goodwill San Antonio provides certified vocational training programs through its Good Careers Academy, free employment services through its Good Career Centers, and manages contracts for the U.S. government and local municipalities for outsourced business services ranging from document management and contact center solutions to grounds maintenance and tree care activities through its Business Services operations.
Website:  www.goodwillsa.org
Facebook:  www.facebook.com/GoodwillSanAntonio
Twitter:  www.twitter.com/goodwillsa
###