GOODWILL SAN ANTONIO ELECTRONICS STORE MOVES TO NEW EXPANDED LOCATION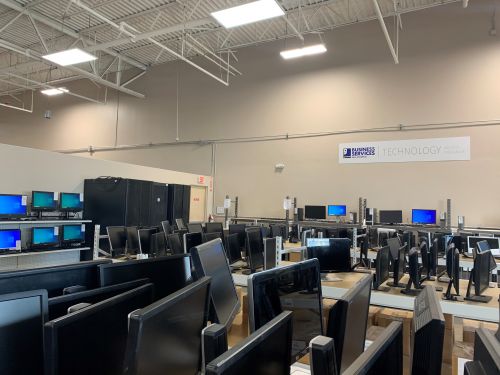 Larger Location Provides Secure Means for Donations and Affordable Technology for All
SAN ANTONIO, TX – (March 18, 2021) – Goodwill San Antonio's Electronics Store and Electronics Recycling Program has moved to a larger location to better serve customers. The new location at 5722 Walzem Road offers an almost 4,000 sq. ft. facility, seven times larger than the previous location, featuring an expanded inventory of quality new, gently-used, and refurbished technology finds at low Goodwill prices including:
Laptops & Desktop computers

Tablets

Gaming Systems

E-Readers

Electronic Parts & Peripherals

Commercial Equipment
While technology shoppers can overspend at traditional retail stores, at Goodwill, customers can select from a wide range of ready-to-go computer systems complete with Microsoft Windows 10 as well as hard-to-find individual components—all at discounted prices that reflect a 15%-65% savings over other retailers.  
Recycling and HDD Data Security Services (Sanitization and Shredding) services are available with plans to add repair and upgrade services in the coming months. Do-It-Yourself customers can select from an expanded selection of parts to include cases, power supplies, fans and other items for custom building activities.
Angelika Kluna, senior electronics program manager for Goodwill San Antonio, views the move as one more way the non-profit is fulfilling its mission to help change lives through the power of work. "Organizations and individuals want to donate their computers and be assured their personal information will not be compromised. Opening this new location provides a place where we can accept donations and provide the donor peace of mind through data sanitization services. Furthermore, team members working with our donated computers gain hands-on, relevant experience while the products they refurbish provide everyone access to participate in today's digital age," says Kluna.
Goodwill San Antonio, a member of the San Antonio Digital Inclusion Alliance, is uniquely qualified to offer technology as part of their Business Services operation. Not only does Goodwill provide an access point to reusable technology through generous commercial and residential donations, the non-profit also partners with a Microsoft Authorized Refurbisher to ensure refurbished computers come with genuine Windows 10 licenses.  
Goodwill San Antonio's Electronics Store and Recycling Program provides a safe and secure means for commercial and residential customers to responsibly dispose of obsolete computers and related equipment, keeping hazardous e-waste out of landfills, while also helping connect our community. Proceeds from the sale of electronics also help fund meaningful job training and employment services to help individuals gain skills and achieve self-sufficiency.
Inventory changes daily therefore customers are encouraged to shop often. Knowledgeable store staff is continuously on the floor helping customers find what they are looking for whether they are a tech novice or an IT enthusiast. 
Store hours for the new Goodwill Electronics Store location are 10 a.m.-4 p.m. Monday-Friday.
For more information and directions, visit www.goodwillsa.org/electronics-store or call (210) 271-8806.
About Goodwill Industries of San Antonio
Serving San Antonio since 1945, Goodwill San Antonio is a Section 501(c)(3) non-profit social enterprise whose mission is to help change lives through the power of work. When you donate to or shop at Goodwill, your purchases and donations help fund education, training and career services to empower people with disabilities and life barriers to find meaningful employment. In addition to operating retail stores and donation stations in San Antonio, Cibolo, Kerrville, Laredo, New Braunfels, Seguin and the surrounding areas, Goodwill San Antonio provides certified vocational training programs through its Good Careers Academy, free employment services through its Good Career Centers, and manages contracts for the U.S. government and local municipalities for outsourced business services ranging from document management and contact center solutions to grounds maintenance and tree care activities through its Business Services operations.
Website:  www.goodwillsa.org
Facebook:  www.facebook.com/GoodwillSanAntonio
Twitter:  www.twitter.com/goodwillsa
###