GOODWILL SAN ANTONIO ELECTRONICS STORE JULY SAVINGS EVENT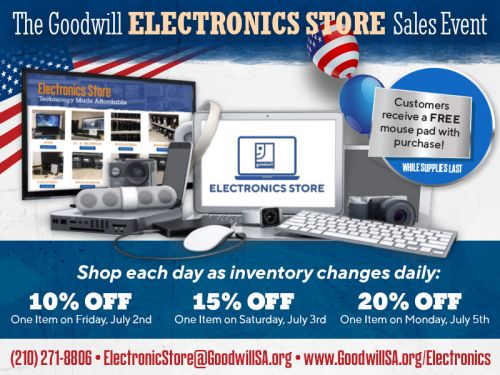 Local non-profit offering a series of savings on refurbished computers, gaming consoles, TVs, and more.
 
(SAN ANTONIO – June 30, 2021) – This summer, ahead of the Back to School rush, Goodwill San Antonio's Electronics Store is offering families hot deals on quality, refurbished computers and other electronics.
Starting July 2, shoppers can receive a discount on one item purchased in-store or via an email order. Customers will also receive a free mousepad while supplies last.
Goodwill Electronics Store Sales Event
Friday, July 2 – 10% off one item

Saturday, July 3 – 15% off one item

Monday, July 5 – 20% off one item
Quality, refurbished electronics include laptops, all-in-one-computers, monitors, computer parts, televisions, video game consoles and related accessories. All items come with a 30-day warranty. In addition to shopping for affordable technology, Goodwill San Antonio also offers computer data security services to include wiping or shredding hard drives.
 Customers are encouraged to shop often as inventory changes daily. For customers who are uncertain as to which computer is right for them, these tips will help undecided buyers determine the best investment.
Goodwill San Antonio Electronic Store
5722 Walzem Road
San Antonio, TX  78218
Hours of Operation:  Monday – Saturday 10:00 a.m. – 4:00 p.m.
According to the U.S. Census Bureau, one in four San Antonio households lack internet access and approximately one in six households do not have a computer. The pandemic continues to accelerate the need students, families, businesses, health services, and educational institutions have for devices in order to conduct activities via virtual means.
"Digital inclusion is paramount to empowering individuals to reach their fullest potential," stated Angelika Kluna, Senior Electronics Program Manager for Goodwill San Antonio. "Now, more than ever, our mission is to responsibly refurbish electronic devices and put them back into the community in order for local residents and students to have access not only to the technology itself, but to the opportunities technology provides – from obtaining an education and completing employment applications, to information sharing, and managing everyday tasks such as bill paying and healthcare needs."
Goodwill San Antonio is uniquely qualified to offer technology as part of their Business Services operation. Not only does Goodwill have a unique access point to inventory through commercial and residential donations, they are also a licensed Microsoft Registered Refurbisher.
To learn more about Goodwill San Antonio's Electronic Store and Technology Access Program, visit goodwillsa.org/electronics or call (210) 271-8806. Those interested can also send an email to ElectronicStore@goodwillsa.org.
About Goodwill Industries of San Antonio
Celebrating 75 years of serving San Antonio, Goodwill San Antonio is a Section 501(c)(3) non-profit social enterprise that helps change lives through the power of work. When you donate to or shop at Goodwill, your purchases and donations help fund jobs, education, training and career services that empower people with disabilities and life barriers with meaningful employment. In addition to operating retail stores and donation stations in San Antonio, Cibolo, Kerrville, Laredo, New Braunfels, Seguin and the surrounding areas, Goodwill San Antonio provides certified vocational training programs through its Good Careers Academy, free employment services through its Good Career Centers, and manages contracts for the U.S. government and local municipalities for outsourced business services ranging from document management and contact center solutions to grounds maintenance and tree care activities through its Business Services operations.
Website:  www.goodwillsa.org
Facebook:  www.facebook.com/GoodwillSanAntonio
Twitter:  www.twitter.com/goodwillsa
###