GOODWILL SAN ANTONIO ELECTRONICS PROGRAM CELEBRATING EARTH DAY BY OFFERING GOOD DEALS FOR GOOD DEEDS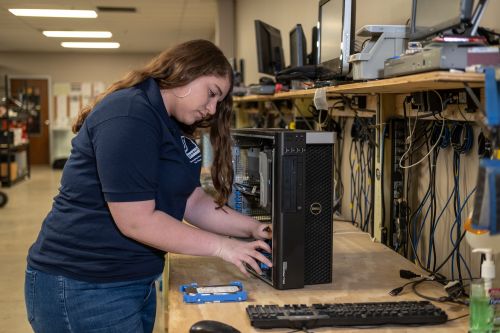 Local non-profit diverts recyclables from local landfills, helps bridge digital divide
 
(SAN ANTONIO – April 19, 2021) – Each year, the world collectively celebrates Earth Day on April 22nd. Yet, Goodwill San Antonio's Electronics Store and Recycling Program celebrates Earth Day every day by collecting and repurposing electronic items year-round that would otherwise end up as hazardous material in local landfills.  
To encourage the community to participate in good deeds that help protect our environment, Goodwill San Antonio is offering a good deal on quality refurbished computers and other electronic equipment. Individuals who donate electronic items such as computers, tablets, and flat screen televisions directly to the Goodwill San Antonio Electronics Store during the month of April, will receive a 10% off coupon for any product purchased at the Goodwill Electronics Store April 15through May 14.
Goodwill San Antonio Electronics Store and Recycling Program
5722 Walzem Road, San Antonio, TX  78218
Store Hours: Monday – Friday 10:00 a.m. – 4:00 p.m.
In 2019, Goodwill San Antonio was recognized as one of the first 50 businesses in San Antonio to receive the highest level of recycling certification, Gold Certification, from the ReWorksSA division of the City of San Antonio's Solid Waste Management Department. Goodwill San Antonio demonstrates its commitment to environmental and social sustainability through reuse and recycling efforts.
Goodwill San Antonio's Electronics Recycling Program responsibly recycled 2.3 million pounds of electronics equipment in 2020; and in an effort to bridge the community's digital divide, an issue now exacerbated by the COVID-19 pandemic, the organization also safely and securely repurposed nearly 1,000 computers for individuals and families in need through Goodwill San Antonio's Technology Access Program. 
"Our focus has and continues to be on both environmental and social sustainability where we responsibly refurbish electronic devices and put them back into the community in order for local residents and students to have access not only to the technology itself, but to the opportunities technology provides – from obtaining an education and completing employment applications, to information sharing, and managing everyday tasks such as bill paying and healthcare needs," states Angelika Kluna, Senior Electronics Program Manager for Goodwill San Antonio.
Through its Business Services Certified IT Asset Disposition and E-Waste Management Operations, Goodwill San Antonio provides an unique opportunity for businesses to repurpose their equipment for the benefit of the San Antonio community. Goodwill San Antonio is a certified Electronics Recycler and licensed Microsoft Registered Refurbisher.
To learn more about Goodwill San Antonio's Electronic Program and data security and e-waste services, visit goodwillsa.org/electronics or call (210) 271-8806. Businesses interested in donating electronics can also email Computers@GoodwillSA.org
About Goodwill Industries of San Antonio
Goodwill San Antonio is a Section 501(c)(3) non-profit social enterprise that helps change lives through the power of work. When you donate to or shop at Goodwill, your purchases and donations help fund jobs, education, training and career services that empower people with disabilities and life barriers with meaningful employment. In addition to operating retail stores and donation stations in San Antonio, Cibolo, Kerrville, Laredo, New Braunfels, Seguin and the surrounding areas, Goodwill San Antonio provides certified vocational training programs through its Good Careers Academy, free employment services through its Good Career Centers, and manages contracts for the U.S. government and local municipalities for outsourced business services ranging from document management and contact center solutions to grounds maintenance and tree care activities through its Business Services operations.
Website:  www.goodwillsa.org
Facebook:  www.facebook.com/GoodwillSanAntonio
Twitter:  www.twitter.com/goodwillsa
###