GOODWILL SAN ANTONIO BUSINESS SERVICES RECOGNIZED FOR PERFORMANCE EXCELLENCE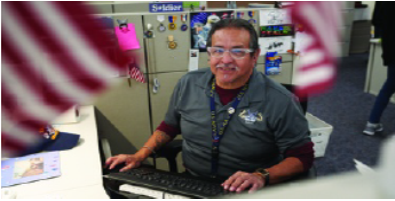 Goodwill Industries of San Antonio Business Services was awarded the 2020 Performance Excellence in Hiring Veterans with Disabilities award by SourceAmerica, a national nonprofit agency whose mission is to create employment opportunities for people with significant disabilities by securing federal contracts through the AbilityOne Program for its network of community-based nonprofit agencies.
The SourceAmerica Achievement Awards recognize exceptional work ethic, success and leadership across multiple categories. The Performance Excellence in Hiring Veterans with Disabilities award recognizes a nonprofit agency for outstanding outreach and support in recruiting, hiring and training veterans with disabilities.
Goodwill San Antonio Business Services has a long and rich history of serving veterans and their family members as they transition and adapt critical military skills into meaningful civilian opportunities. Placing a strong value on hiring veterans, Goodwill keenly understands the commitment and dedication veterans bring to their employers. 
"Goodwill is proud to demonstrate that veterans with disabilities are a true asset to the workplace. Having veterans serve veterans through our contracts is part of our commitment to both people with disabilities and the men and women who proudly serve our country through their military service," said Mark McKeever, president and chief operating officer of Goodwill San Antonio Business Services and U.S. Air Force veteran.
Of Goodwill Business Services' 667 employees, 101 are Veterans and 66% of those veterans have a significant disability. These veterans, who may or may not need accommodations, provide a highly desired skill set for serving on the agency's 50 contracts. Furthermore, 75% of the leadership team is comprised of both U.S. Air Force and U.S. Marine veterans, reinforcing the agency's commitment to hiring those who have served throughout every level of the organization.
With a dedicated recruiting team to include members who themselves are veterans, Goodwill is able to leverage experience to appropriately match skill sets to specific employment opportunities such as contact center positions to staff the U.S. Air Force's Total Force Service Center located in the Air Force Personnel Center at Randolph Air Force Base. The Total Force Service Center responds to approximately 528,000 inquiries annually and services the entire Air Force population around the world 24 hours a day, seven days a week.  
The nonprofit also provides on-site life skills coaches to support veterans in areas of personal and professional development throughout their career at Goodwill. Services range from referrals to community resources to intensive one-on-one sessions helping team members find solutions and achieve goals regarding their personal and professional aspirations.
Goodwill's commitment to veterans also extends to spouses and dependents, helping them find meaningful work within the community. Services include career assessments, résumé preparation, and interviewing skills and techniques to help in their job search actvities. 
Among its many contracts for the federal government, local municipalities, and commercial organizations, Goodwill Business Services processes medical claims for retired veterans through a contract with the U.S. Army and U.S. Air Force. The Goodwill Business Services Army/Air Force Records Processing Center expedites time for the U.S. Department of Defense to process medical claims for retired veterans.
For more information regarding Goodwill San Antonio Business Services and the agency's dedication to serving veterans, call (210) 924-8581 or visit www.gwsabusiness.org.
View Goodwill San Antonio Business Services Video
About Goodwill San Antonio Business Services
Serving San Antonio since 1945, Goodwill San Antonio is a Section 501(c)(3) non-profit social enterprise that helps change lives through the power of work. When you donate to or shop at Goodwill, your purchases and donations help fund education, training and career services to empower people with disabilities and life barriers to find meaningful employment. In addition to operating retail stores and donation stations in San Antonio, Cibolo, Kerrville, Laredo, New Braunfels, Seguin and the surrounding areas, Goodwill San Antonio provides certified vocational training programs through its Good Careers Academy, free employment services through its Good Career Centers, and manages contracts for the U.S. government and local municipalities for outsourced business services ranging from document management and contact center solutions to grounds maintenance and tree care activities through its Business Services operations.
Website:  www.gwsabusiness.org  
Facebook:  www.facebook.com/GoodwillSanAntonio
Twitter:  www.twitter.com/goodwillsa