GOODWILL SAN ANTONIO ASKS COMMUNITY TO DONATE LAPTOPS IN SUPPORT OF NATIONAL DIGITAL INCLUSION WEEK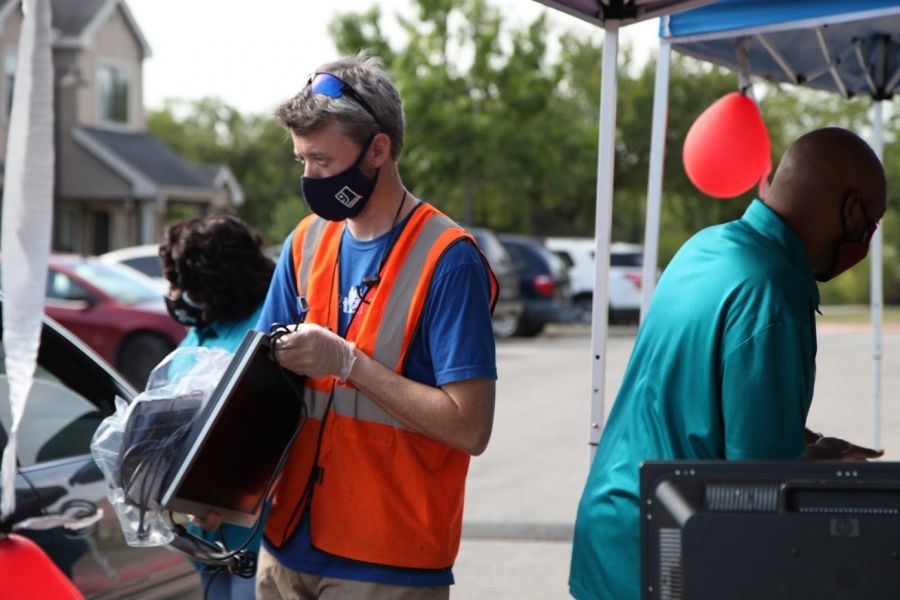 1,900 laptops are needed over the next four months to support Goodwill San Antonio's Technology Access Program
(SAN ANTONIO –October 5, 2020) –In recognition of National Digital Inclusion Week October 5th- 9th, Goodwill San Antonio is asking business and community partners to donate gently used devices in support of the non-profit's Technology Access Program targeting individuals and organizations who have limited access to technology. 1,900 laptops are needed over the next four months.
Continued distance learning and remote working activities compounded with increased job insecurity have accelerated the need for laptops and other computer related equipment. Each donated device, whether a laptop, tablet, or desktop computer, becomes an important lifeline to student achievement, job attainment, and skill development.
Goodwill San Antonio's Electronic Recycling program accepts both commercial and residential donations of computers and related devices, and safely and responsibly refurbishes equipment with a goal of placing as many devices back in the community as possible. The program also provides certified IT Asset Disposition (ITAD) services to help companies manage their data securely. This includes performing HDD sanitization and shredding services to meet compliance needs with the ability to track devices from the moment they leave an organization's facility to final disposition. The R2 certified program adheres to the highest industry standards for worker health & safety, environmental responsibility, and data security.
With a focus on both environmental and social sustainability, the program aims to refurbish donated computers in an effort to help bridge the digital divide, empowering the community to connect to education, workforce development, and healthcare.
"Digital inclusion is paramount to empowering individuals to reach their fullest potential," stated Angelika Kluna, Senior Electronics Program Manager for Goodwill San Antonio. "Now, more than ever, our mission is to responsibly refurbish electronic devices and put them back into the community in order for local residents and students to have access not only to the technology itself, but to the opportunities technology provides – from obtaining an education and completing employment applications, to information sharing, and managing everyday tasks such as bill paying and healthcare needs."
As members of the San Antonio Digital Inclusion Alliance, Goodwill San Antonio is uniquely qualified to offer technology as part of their Business Services operation. Not only does Goodwill have a unique access point to inventory through commercial and residential donations, they are also a licensed Microsoft Registered Refurbisher.
Partnerships with the San Antonio Chamber of Commerce, the San Antonio Hispanic Chamber of Commerce and other local organizations have resulted in nearly 400 donations of computers and related equipment thus far.
For more information on Goodwill San Antonio's Electronics Recycling, IT Asset Disposition, and Technology Access Programs, visit: Goodwill SA ITAD Services,
Goodwill SA Technology Access Program or call (210) 271-8800.
About Goodwill Industries of San Antonio
Celebrating 75 years of serving San Antonio, Goodwill San Antonio is a Section 501(c)(3) non-profit social enterprise that helps change lives through the power of work. When you donate to or shop at Goodwill, your purchases and donations help fund jobs, education, training and career services that empower people with disabilities and life barriers with meaningful employment. In addition to operating retail stores and donation stations in San Antonio, Cibolo, Kerrville, Laredo, New Braunfels, Seguin and the surrounding areas, Goodwill San Antonio provides certified vocational training programs through its Good Careers Academy, free employment services through its Good Career Centers, and manages contracts for the U.S. government and local municipalities for outsourced business services ranging from document management and contact center solutions to grounds maintenance and tree care activities through its Business Services operations.
Website:  www.goodwillsa.org
Facebook:  www.facebook.com/GoodwillSanAntonio
Twitter:  www.twitter.com/goodwillsa
###