Goodwill opens new donated goods retail store on San Antonio's Northwest side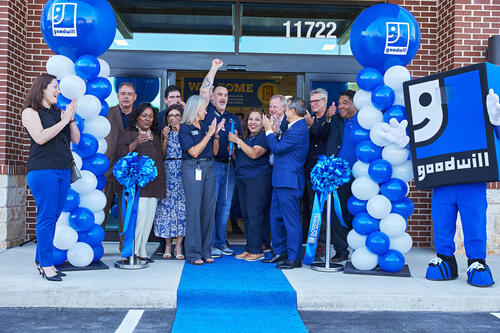 SAN ANTONIO, TX – (July 14, 2023) – Goodwill is adding to its retail operations in San Antonio, Texas with a new store and donation center, located off Bandera Road at 11722 Quincy Lee Drive. On Friday, July 14, Goodwill officials hosted a celebratory ribbon cutting and open house for city leaders and members of the media at 9 a.m., followed by the official grand opening to the general public at 10 a.m.
"We are delighted to bring a new Goodwill store to the vibrant community of San Antonio," said Carlos J.
Contreras III, President & CEO at Goodwill San Antonio. "Expanding our footprint in the city will allow us to provide more hope and opportunities to community members looking to achieve upward mobility."
The new, 23,000+ square ft. building boasts a modern and inviting layout, designed to enhance the shopping experience for customers. The store will also provide employment opportunities for more than 35 local
individuals, further contributing to Goodwill's mission of helping change lives through the power of work. Hours of operation will be Monday through Saturday, 10 a.m. to 8 p.m. and Sunday, 10 a.m. to 7 p.m.
The ribbon cutting ceremony featured remarks from Contreras; Bo Davies, Vice Chairman of the Goodwill Board of Directors; Dave Petersen, Interim President and CEO of the Greater San Antonio Chamber of Commerce; Erick De Luna, Chief of Staff for District 7 Councilwoman Marina Alderete Gavito; and Liz Castillo, General Manager of the Culebra Goodwill store and product of Goodwill's workforce development programs, who joined Goodwill representatives in cutting the ceremonial ribbon. Attendees had the opportunity to explore the new store and witness firsthand the incredible selection of high-quality merchandise that Goodwill has become known for. Shortly after, the community was invited to discover and shop a wide range of  clothing, accessories, household items, electronics, and more.
With a strong focus on sustainability and affordability, Goodwill ensures that every purchase made at the store directly contributes to the organization's life-changing career programs and services offered at the Good Careers Academy and Good Careers Centers.
To find a list of area Goodwill donated goods retail and outlet stores, visit www.goodwillsa.org.
About Goodwill Industries of San Antonio
Serving San Antonio since 1945, Goodwill San Antonio is a Section 501(c)(3) non-profit social enterprise whose mission is to help change lives through the power of work. In addition to operating retail stores and donation stations in San Antonio, Cibolo, Kerrville, Laredo, New Braunfels, Seguin and the surrounding areas, Goodwill San Antonio provides certified vocational training programs through its Good Careers Academy, free employment services through its Good Career Centers, and manages contracts for the U.S. government and local municipalities for outsourced business services.
See this story in the news!