GOODWILL OPENS NEW DONATED GOODS RETAIL STORE IN BULVERDE, TX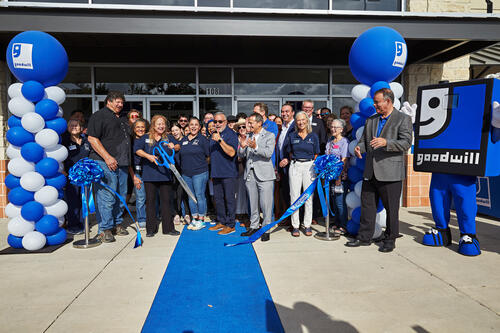 BULVERDE, TX – (July 26, 2023) – Goodwill is adding a new store and donation center in Bulverde, Texas to its donated goods retail operations. On Wednesday, July 26, Goodwill officials hosted a celebratory ribbon cutting and open house for city leaders and members of the media at 9 a.m., followed by the official grand opening to the general public at 10 a.m. The store is located at 20475 Hwy 46, Suite 108.
"We are eager to welcome donors and shoppers into this beautifully revitalized space and look forward to serving Bulverde and Spring Branch," said Carlos J. Contreras III, President & CEO at Goodwill San Antonio. "As a workforce development organization, we look forward to providing employment and growth opportunities for individuals in these communities."
The 20,000+ square ft. space is strategically situated in a bustling shopping center adjacent to the new HEB, making it easily accessible and convenient for shoppers. Goodwill has spared no effort in transforming the former Bealls into a thrifting mecca. In the spirit of resourcefulness and environmental sustainability, Goodwill has taken advantage of the existing interior fixtures left behind by the former tenant. By reusing and repurposing these materials, the store retains its unique character while embodying Goodwill's retail essence. The store will provide employment opportunities for more than 25 local individuals, further contributing to Goodwill's mission of helping change lives through the power of work. Hours of operation will be Monday through Saturday, 10 a.m. to 8 p.m. and Sunday, 10 a.m. to 7 p.m.
The ribbon cutting ceremony featured remarks from Contreras; Bo Davies, Goodwill Board of Directors; Bill Kraewitz, Bulverde Mayor; Rhonda Zunker, President at the Bulverde Spring Branch Area Chamber of Commerce; and Kristina Krupalla, Goodwill San Antonio Team Member, who joined Goodwill representatives in cutting the ceremonial ribbon. Attendees had the opportunity to explore the new store and witness firsthand the incredible selection of high-quality merchandise that Goodwill has become known for. Shortly after, the community was invited to discover and shop a wide range of clothing, accessories, household items, electronics, and more.
With a strong focus on sustainability and affordability, Goodwill ensures that every purchase made at the store directly contributes to the organization's life-changing career programs and services offered at the Good Careers Academy and Good Careers Centers.
To find a list of area Goodwill donated goods retail and outlet stores, visit www.goodwillsa.org.
And to view photos from the event click here.