Goodwill offers workforce training and education at no cost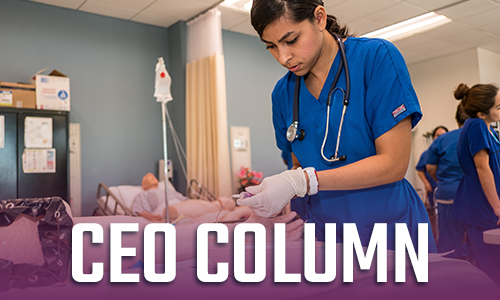 For decades, Goodwill San Antonio has remained committed to helping our diverse community achieve upward mobility through stable employment, skills development, job training, and other life-changing opportunities.
For 2023, we plan to maximize our capacity to serve by reimagining our training and certification programs to reach more underserved communities throughout our service area.
Much like we have done since offering our first classes in 2009, Goodwill's Good Careers Academy will adapt to ensure we are meeting the needs of our students. For example, instruction has evolved from only offering in-person classes at our two area locations, to remote instruction during the pandemic. Understanding that our students will continue to need flexibility, we are now exploring hybrid options for all programs. Diversifying the way in which we offer instruction should allow improvements in our students' overall academic experience, while allowing us to expand our program offerings.
Additionally, our team is hyper focused on generating mission support funds and securing grant funding to help us underwrite the tuition cost for all of our students. In fact, students who attended and completed any of our programs in 2022, did so tuition free. We know there are many barriers and challenges to getting an education, and we work diligently to ensure none of our students take on the burden of debt for achieving a much-needed skill or credential.
To us, having a job can inspire a sense of purpose and self-dignity, regardless of disability or circumstance. Because of this, we do everything we can to help remove life barriers which often prevent future participants from enrolling in an educational course or program. This is why we have committed to a rolling enrollment schedule, so that anyone can complete an application throughout the year and enroll for any upcoming course or short-term vocational program. Our next classes begin Feb. 27 for certified Medical Assistant and Commercial Driver's License certifications. For more information about our workforce training and certification courses offered throughout the year, visit our Good Careers Academy web page at www.goodwillsa.org.
At Goodwill, we believe that a quality education should be accessible, affordable, and lead to a good job. Our dedicated faculty and staff at Goodwill's Good Careers Academy have changed the lives of many by teaching the necessary skills to launch meaningful careers, while supporting the demands of employers in our community. With the continued support and donations from our local community, we can sustain our efforts towards achieving transformational change for the people who need it the most.
Carlos J. Contreras III is President & CEO at Goodwill San Antonio
Published on February 14, 2023 - Mysanantonio.com - Southside Reporter