Goodwill academy gives students chance at success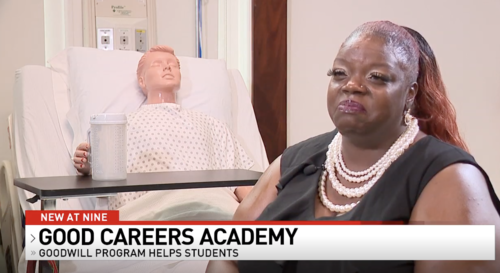 SAN ANTONIO - A local mother who nearly faced homelessness is on her way to fulfilling her nursing career.
Nakia Strogen said it all started with a leap of faith and the support of the Good Careers Academy through Goodwill San Antonio.
Helping people has been a lifelong dream for Strogen. "It's something I've always wanted to do," said Strogen. 
There is one person she is thinking about every day.
"I saw the difference she made in [other people's] lives. I wanted to do the same," added Strogen.
She describes her aunt, Ginger Johnson, who died of a heart attack in 2022.
"Everybody knew her name; she knew every patient's name in that facility. She was very giving, loving, caring, and nurturing." 
Strogen is now following her aunt's passion and dedication to the medical field with the support of her two daughters.
"My kids who told me don't give up," added Strogen. 
Back in October of 2022, she enrolled in the Nurses' Aide program at Good Careers Academy. It's a six-week long course to get certification for entry-level employment.
A program giving people a chance at success through financial scholarships and hands-on learning.
"I had a lot of help along the way," said Strogen. 
In June, two of her family members also graduated from the academy with their certifications. 
"It's really been rewarding. We didn't stop until it was graduation."
"I loved Nakia being in my class from day one. She is always a leader in the classroom," Sara Grady, Strogen's instructor.
While in the program, Strogen dealt with the unexpected. The local mother almost faced homelessness.
Strogen said she had to move out of her apartment due to repairs.
"It pretty much put me in a situation where it was either I come to because work because it was a financial hardship."
In the unknown of what could be next, Strogen kept going. The academy staff also provided her with resources to find new housing. 
"[I had to] take a step back, breathe, and then just hit the ground running and see what I could do to, you know, to effectively move without us having a great change in our lives."
Strogen graduated from Good Careers Academy in March. She is now on her next mission of becoming a traveling nurse. 
"We can help people far beyond san antonio with this. At my current rate, I could deliver medical supplies to Dallas, Houston, and maybe even other states," explained Strogen. 
Part of the impact, Strogen said, is also wanting to inspire others.
"Don't wait. Tomorrow is not promised. [If I ] would have known 20 years ago, what I know now, I would not have waited," said Strogen. 
Now, as Strogen is making plans for her future, the impact of her aunt is always in her heart. 
Camilla Rambaldi: "What would you want her to know now?" 
"I did it. I did. I hope you're proud," said Strogen. 
Click the link below to learn more about the Good Careers Academy.
Good Careers Academy San Antonio 
Published on July 31, 2023 - FOX29