GOOD DEALS, GOOD DEEDS - EVERY DAY IS EARTH DAY AT GOODWILL SAN ANTONIO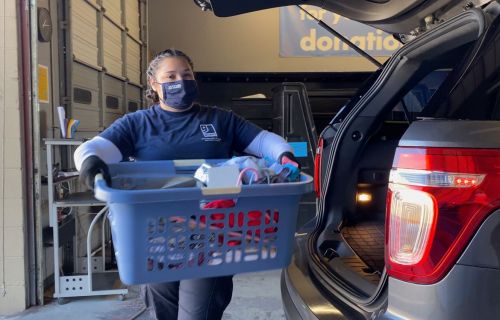 Local non-profit gives donated items a second life that in turn provide a second chance for people in need
 
(SAN ANTONIO – April 21, 2021) – Each year, the world collectively commemorates Earth Day on April 22nd. But at Goodwill San Antonio, every day is Earth Day.
Often deemed the "original recycler", Goodwill operates one of the largest, most unique recycling programs in the area, taking discarded goods and selling them in the non-profit's retail thrift stores to provide a combination of vocational training, employment, and provision of affordable goods for the community. Think of recycling and initial thoughts conjure up visions of aluminum cans, newspapers, plastics, and glass. But recycling is not limited to paper and plastics.
Goodwill San Antonio responsibly receives and sorts through thousands of gently-used clothing, electronics, and household items daily. From computers to couches, and dishes to dresses, Goodwill's 23 retail stores and expanded, stand-alone Electronic Store are stocked with gently-used items waiting to be upcycled, recycled, and responsibly repurposed – all instead of being thrown away. Revenue generated from the sale of donated items helps fund meaningful education, training, and career services Goodwill provides to people facing barriers to employment in the communities the agency serves – helping people move out of poverty and establish stable, successful lives for themselves and their families.
In 2020, Goodwill San Antonio repurposed 12.2 million items placed for sale in its retail stores, recycled 12.7 million pounds of unsold items through its Clearance Center and recycling operations, and responsibly recycled 2.3 million pounds of electronics equipment. In an effort to bridge the digital divide, an issue now exacerbated by the COVID-19 pandemic, Goodwill also repurposed nearly 1,000 computers to individuals and families in need through Goodwill San Antonio's Technology Access Program, a program that simultaneously diverts hazardous electronic waste from our landfills while connecting the community to opportunity.
And since 1995, Goodwill San Antonio's Business Services unit has served on a recycling contract at Laughlin AFB where the team of three recycles items including but not limited to cardboard, paper products, aluminum cans, plastic and wood pallets. In 2020, the team recycled 92 tons of material and was recently honored by Keep Texas Beautiful, Inc. with a Certificate of Recognition for Outstanding Recycling Efforts in 2020.
"Goodwill San Antonio is an organization focused on sustainability, and we work hard every day to identify innovative solutions to reduce waste," said Penny Benavidez, director of public relations for Goodwill San Antonio. "Our environmental sustainability work is critical to moving forward our social sustainability efforts as donations provided to Goodwill are given a second life that in turn provide a second chance for someone in need in within the community."  
In 2019, Goodwill San Antonio was also recognized as one of the first 50 businesses in San Antonio to receive the highest level of recycling certification, Gold Certification, from the ReWorksSA division of the City of San Antonio's Solid Waste Management Department demonstrating the agency's commitment to environmental sustainability through reuse and recycling.
Goodwill collects donated items at its 34 conveniently located donation stations in the greater San Antonio area seven days a week. Items accepted include gently-used household items, furniture, electronics, sporting goods, toys, and clothing. 
For more information on Goodwill San Antonio's sustainability efforts or to find your nearest donation center, call 210-924-8581 or visit www.goodwillsa.org.
About Goodwill Industries of San Antonio
Goodwill San Antonio is a Section 501(c)(3) non-profit social enterprise that helps change lives through the power of work. When you donate to or shop at Goodwill, your purchases and donations help fund jobs, education, training and career services that empower people with disabilities and life barriers with meaningful employment. In addition to operating retail stores and donation stations in San Antonio, Cibolo, Kerrville, Laredo, New Braunfels, Seguin and the surrounding areas, Goodwill San Antonio provides certified vocational training programs through its Good Careers Academy, free employment services through its Good Career Centers, and manages contracts for the U.S. government and local municipalities for outsourced business services ranging from document management and contact center solutions to grounds maintenance and tree care activities through its Business Services operations.
Website:  www.goodwillsa.org
Facebook:  www.facebook.com/GoodwillSanAntonio
Twitter:  www.twitter.com/goodwillsa
###