GOOD CAREERS ACADEMY OFFERING FINANCIAL SCHOLARSHIPS FOR QUALITY VOCATIONAL TRAINING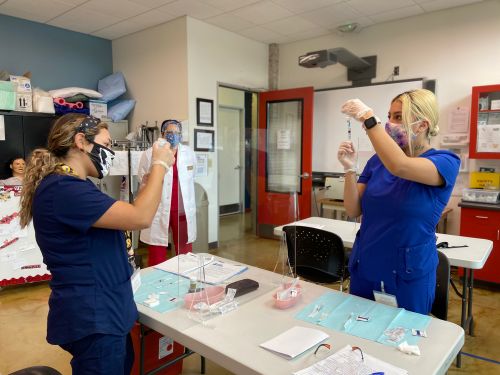 Non-profit offering short-term, accredited training in the medical and transportation fields
(SAN ANTONIO – January 6, 2021) – Goodwill San Antonio's Good Careers Academy is helping provide a new start in the new year to those who are looking to gain competitive skills by providing affordable,  accredited vocational training in the medical and transportation fields. Specific training programs offered by the non-profit include Nurse's Aide, Medical Assistant, Pharmacy Technician, and Commercial Driver License.
Good Careers Academy is part of a collaborative effort along with several area partners including Project Quest offering vocational training programs to those whose livelihoods have been negatively impacted by the COVID-19 pandemic. For workers who cannot go back to their old jobs and must acquire new skills in order to remain competitive, or for anyone wanting to advance in their career, training will allow individuals to gain skills and necessary certifications in high-demand industries with employment opportunities here locally.
New and traditional funding resources are providing additional opportunities for FULL financial assistance and a potential stipend. This means individuals who qualify can receive quality vocational training for little to no out-of-pocket costs as well as a stipend for participating in one of the programs.
Course offerings and curriculum are designed to be completed in less than one year and are shaped by area employers who provide real-world guidance on the needs of the business community. The Good Careers Academy student experience also includes a blended instruction model, one-on-one instructor support, hands-on learning, externship opportunities, and job placement assistance upon graduation.
"The COVID-19 pandemic has significantly affected our economy and has changed the employment landscape indefinitely," said Angelique De Oliveira, chief mission services officer for Goodwill San Antonio. "In this new year, and with new funding opportunities available in combination with a safe and quality hybrid curriculum, Good Careers Academy remains dedicated to providing individuals with the highest quality training opportunities to help them achieve financial stability and long-term success."
The goal of Good Careers Academy is to prepare individuals for well-paying, high-demand careers while providing a skilled, job-ready workforce to local employers. Funding through Goodwill San Antonio's retail stores and other partnerships positions Good Careers Academy to provide scholarship opportunities and wrap around supports to individuals, many of whom are deemed non-traditional students and facing multiple life barriers.
To learn more about enrolling in Goodwill San Antonio's Good Careers Academy, visit www.goodwillsa.org/education-training/good-careers-academy or contact the Admissions Office at (210) 271-8888 or by email at AdmissionGCA@goodwillsa.org.
About Goodwill Industries of San Antonio
Serving San Antonio since 1945, Goodwill San Antonio is a Section 501(c)(3) non-profit social enterprise whose mission is to help change lives through the power of work. When you donate to or shop at Goodwill, your purchases and donations help fund education, training and career services to empower people with disabilities and life barriers to find meaningful employment. In addition to operating retail stores and donation stations in San Antonio, Cibolo, Kerrville, Laredo, New Braunfels, Seguin and the surrounding areas, Goodwill San Antonio provides certified vocational training programs through its Good Careers Academy, free employment services through its Good Career Centers, and manages contracts for the U.S. government and local municipalities for outsourced business services ranging from document management and contact center solutions to grounds maintenance and tree care activities through its Business Services operations.
Website:  www.goodwillsa.org
Facebook:  www.facebook.com/GoodwillSanAntonio
Twitter:  www.twitter.com/goodwillsa
###