CREATE GOOD TIMES WITH GOOD GIFTS FROM GOODWILL SAN ANTONIO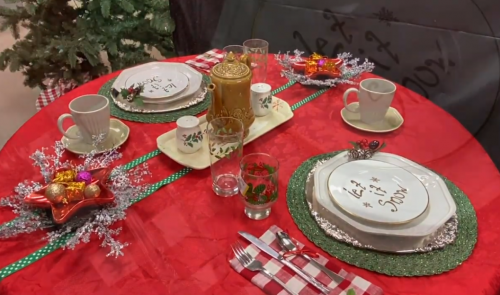 Affordable, sustainable, and unique gifts to brighten the holidays by shopping thrift
(SAN ANTONIO – December 10, 2020) – As people and families find themselves home once again to prevent further spread of the coronavirus, Goodwill San Antonio can help make the holidays special despite this year's celebrations looking a little different.
Savvy shoppers, now stuck at home, understand Goodwill is the best place to create new family traditions by purchasing value-priced books, media, and games as well as supplies for creative DIY or home improvement projects. However, what some may not know is with each purchase you make at Goodwill, you are reducing waste and giving gently-used items a second life as well as creating job opportunities for people here in our local community – job and training opportunities that are needed more than ever.
"Goodwill San Antonio offers good finds and good gifts that equate to memorable times with friends and family," said George Staska, vice president of donated goods and retail for Goodwill San Antonio. "With the increase in donations received during the pandemic, our stores our filled with a variety of quality, affordable items — from holiday knick-knacks and name-brand clothing to do-it-yourself inspiration. We truly have something for everyone on your list and items you cannot find at traditional retailers."
When it comes to holiday DIY projects, Goodwill has these ideas to help inspire creative, thrifty holiday crafting:
For those looking to do their holiday shopping from the comfort of home, Goodwill San Antonio also offers easy shopping online anytime at shopgoodwill.com. Shoppers can safely shop the more than 600 higher value items listed online to include collectibles, jewelry, designer clothing, accessories, art, and vintage toys. More than 100 new items are listed every day, and shoppers can skip the shipping through contactless, local pickup.
Goodwill San Antonio's stores and donation locations help fund important community-based programs that make a difference in someone's life while also helping to divert millions of pounds of useable items from landfills. Instead of becoming unnecessary waste, donated clothing and household goods are sold in Goodwill stores, where they can be reused and repurposed in a responsibly sustainable manner.
To learn more about Goodwill San Antonio's mission to help change lives through the power of work, or to find your nearest Goodwill store visit www.goodwillsa.org/shop.
About Goodwill Industries of San Antonio
Serving San Antonio since 1945, Goodwill San Antonio is a Section 501(c)(3) non-profit social enterprise that helps change lives through the power of work. When you donate to or shop at Goodwill, your purchases and donations help fund education, training and career services to empower people with disabilities and life barriers to find meaningful employment. In addition to operating retail stores and donation stations in San Antonio, Cibolo, Kerrville, Laredo, New Braunfels, Seguin and the surrounding areas, Goodwill San Antonio provides certified vocational training programs through its Good Careers Academy, free employment services through its Good Career Centers, and manages contracts for the U.S. government and local municipalities for outsourced business services ranging from document management and contact center solutions to grounds maintenance, tree care activities, and electronics recycling through its Business Services operations.
Website:  www.goodwillsa.org
Facebook:  www.facebook.com/GoodwillSanAntonio
Twitter:  www.twitter.com/goodwillsa
 Find Holiday Inspiration from Goodwill San Antonio Here:
 YouTube: https://www.youtube.com/user/goodwillsanantonio/videos
 Instagram: https://www.instagram.com/goodwillsa/
###