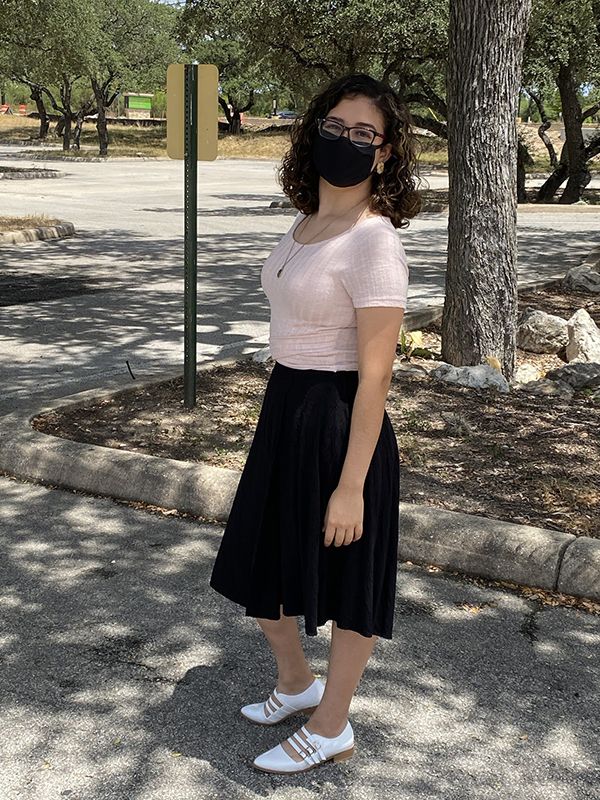 Thrifting Wardrobe Basics
During the extended time of quarantine, I have been left with plenty of time to do a lot of cleaning around my room. This has lead me to find some little, but still relevant, holes in my wardrobe that would be considered "basic", including a lot of blacks and whites. As I often do, I looked for some inspiration on Pinterest, created a board, and was ready to look far and wide through the racks in order to find those perfect things to make my wardrobe more complete.
Starting with Basic Black:
You know how you always a different black shirt for different occasions? In my case, I needed a black top that was a little more put together than some of the ones that I already had. As always, Goodwill San Antonio comes through for me and I was able to find the CUTEST lace top on one of my trips! It is exactly the way I envisioned it: not too long or short, and a little more fitted to my figure to be able to layer sweater or coats in the winter with. This beauty came to only $4.75, while I suspect that something similar will probably go at least for $20.
Moving On To Basic Outwear:
The next basic I bought was something that I have in tons but can never be too much, especially as we get into the latter half of the year. Outerwear has always been my kryptonite, and this find was no exception to it, as I didn't own a jacket of this material yet in my collection. It also has the bonus points of being a Polo Lauren Jacket with little rhinestones in the buttons, perfect for that 2000s vibe that has been coming back in fashion lately! A new one would probably go for $85 minimum, but this was only $6.49 and in basically brand new condition! I am so excited to pair this with some fall outfits.
Shoes: The Basics in White
One of my favorite finds this month was something that is quite hard for me to find but always gratifying: shoes. Having a very common shoe size, finding shoes that fit my style can sometimes be a little work, but this month I hit the absolute jackpot, I tell you! After being on the lookout for some white shoes for literal months on end now, I found this perfect pair for $6.99. I love the little straps and how they can dress up a pair of jeans and t-shirt combo, as well as working perfectly with something more formal.
The Basics: Hats
My last clothing item this month was this hat, which actually my mom picked for me while on my trips. I have recently started to dive into a lot of hair accessories, so this was perfect! It is 100% wool and I have plans to unstitch the band around it so that I am able to change it for different fabrics and making it more versatile to my wardrobe. Can't express enough how excited I am to wear it out for the first time!
The Basics:  Books
Lastly, this quarantine has helped me get around some of my personal goals, one of those being to read more on a daily basis. As I was going around the store, I picked up 3 books this month, Red Queen, which I read back in middle school and had been wanting to revisit for a while now, Ready Player One, which I have seen the movie but have yet to read the book, and The Book of Nature Photography since I have been wanting to improve my photography skills for a while and seemed like a perfect place to start.
Like always, this article is done in hopes of inspiring others to start or continue in their sustainable journey. Hopefully, you will be inspired by the things you have seen here and the many more that are still in the stores. Be sure to follow me on Instagram @i_love_thrift_thrills to see my latest finds and adventures. Until next time!