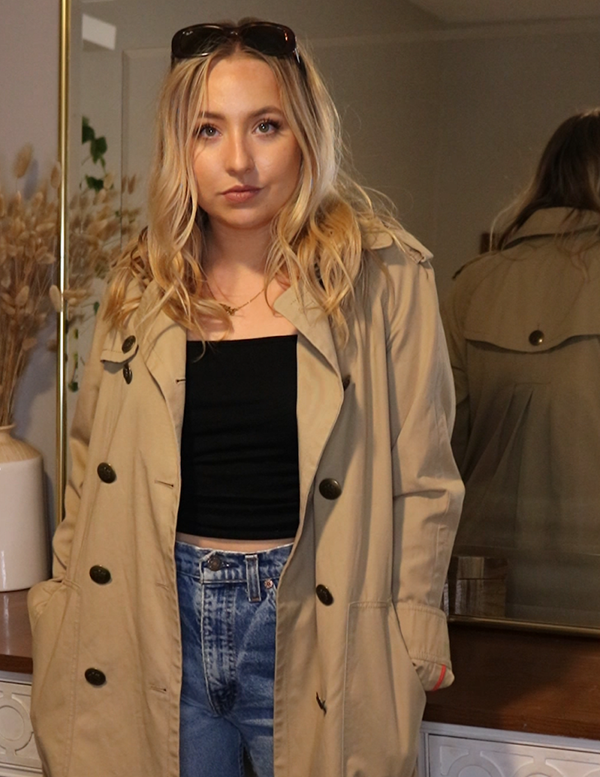 Thrifting Runway Trends
Hey everyone! I studied the runway & scoured the internet for all the street style trends so you don't have to.  
C A R D I G A N S 
They're back & here to stay! Thankfully this is a really easy thrift find since most people have purged this trend... It's safe to say that the moment you purge an item from your collection it comes right back in style!  I didn't have any cardigans in my current collection so I went & snagged two different cardigans from my local GoodwillSA. The first was a BROOKS BROTHERS white cardigan with a really pretty detail cutout all over. I'm not super boujee with my brands but I'm definitely not one to turn down a Brooks Brothers cardigan for $4.79 (estimated to be originally $100+) The 2020 twist is to crop the cardigan and keep it mostly unbuttoned but I just can't take a pair of scissors to this one. I did find another dusty blue cardigan with a peplum hem that I will probably take some scissors to. I thought this was the perfect color for spring and would be an easy look to style. Pair with some light wash or white denim and its a complete look!
P A S T E L S 
Okay, okay. I know this one isn't groundbreaking for spring but coming from a really neutral fall/winter things are really starting to brighten up in the fashion world. The pastels I'm seeing the most are the baby blue, sage green and lilac shades. For this trend, I happened to find a light pink top that has some textured detail to it. I'm all about added textures in a look- it makes a simple look a little more interesting!  My plan with this top is to crop it and pair with some light wash denim. 
S T R A I G H T   C U T   D E N I M 
Can you believe it? The super skinny jean is being replaced with a classic-looking straight cut. Very 90s inspired. This is another easy trend to spot while thrifting! I tend to find more high wasted, straight cut denim jeans than skinny jeans so this is a great opportunity to find a winning pair! To style this trend, I would pair with a tighter fitting top that ends at the waist. This will ensure that you look elongated and balanced - not frumpy. 
C H U N K Y   S A N D A L S 
Hello again 90s! I remember my mom wearing these and now they're back! I have to admit- I reallllly like this trend. It's easy to find while thrifting and easy to wear. I opted for this lilac pair to keep things extra fun for spring. I also loved the subtle square toe on these. (Another popular style I have been seeing on social media and the runway) Plus! These were Anne Klein and never worn-score!!
T R E N C H  C O A T S
This might be my favorite trend of all. I find this look really flattering when worn on its own or as a layering piece. It's really classic, sophisticated and will never go out of style. Its worth searching around for a good trench that you can wear as a transitional piece for fall/winter and winter/spring. I kept it simple by getting a tan color which will work well with virtually any look or color palette. If you want to go bolder - go for a pop of color! A lot of designers made the trench coat a statement piece with many being a bright color and leather material.
B O Y F R I E N D  B L A Z E R S 
A boyfriend blazer is a unique take on the traditional blazer which tends to be more fitted and tailored to cinch at the waist. The identifying feature of these blazers is the straight cut. A boyfriend blazer should be a little boxy in its shape and can also be oversized. I actually find this look really flattering on women since the blazer is typically worn with a pair of tight fitting denim, biker shorts or a body con dress. Since I chose to wear my blazer buttoned - I wore my straight cut denim to keep this look comfy and casual.
As always, Happy Thrifting!! There are so many fun trends in store for this season! You are destined for a #goodfind!
For more thrifting, styling and fashion inspiration follow @Whereslyss 
Instagram | Pinterest | YouTube