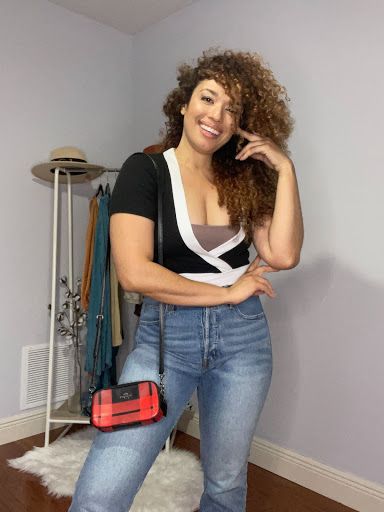 Shop Your Closet
Have you ever opened your closet and just stared at all your clothing while thinking "I have NOTHING to wear"? It was my thought for years. Either I'd worn it already, it didn't fit right or I wasn't in the mood for a particular outfit. I once met a girl in college that said she would absolutely NEVER repeat an outfit. I thought to myself, "NEVER? REALLY?" She said that she would go shopping every single week for her weekend, going out looks and some new stuff for school and that shook me to my core. Though I wasn't living the conscious consumer life myself as I am now, the very thought of all the money she spent on her weekend looks and every day outfits sent a shiver down my spine. I started doing a mental inventory of my closet, and thought there has to be a better way. I hated the "I have nothing to wear" feeling knowing well that I had a perfectly stocked closet full of clothing, accessories and shoes. 
Shopping your closet is exactly what it sounds like. I treat my closet as if it were a boutique. I get to rediscover clothing that I haven't worn in a while and come up with new ways to style and put together looks that I hadn't thought of before. Of course, scanning your closet will also involve the process of elimination and can be a moment to think of what doesn't serve you any longer. I don't mean a full on closet clean-out, which I'll leave for another post, but a quick analysis as you're browsing through your wardrobe. I'll have a moment when I'll pick something up and think, "I've never worn this, and probably never will", so I'll try it on just to make sure I'm ready to part with it, if I'm not convinced of the fit, style, or function, then I place it in a spare closet in one of my guest rooms and later on after a real closet clean-out, decide if I should gift, donate or resell (depending on the value).
So, what exactly does my process entail? First, do an inventory of everything you own. Look for things you never wear, haven't worn in a really long time or even still have tags on them. Set them aside. If something is worn out or doesn't fit your body or your style anymore, consider gifting, reselling, donating or recycling them (at a store or organization that accepts textiles to recycle, such as Goodwill San Antonio). Once you've sorted out what you would still wear, there you go! Start wearing those outfits again! They can be restyled with a different belt, add layers if the weather permits, use different pairings, get creative! If you have a sewing machine, you can get even more creative and up-cycle the pieces, turning them into something completely new. If sewing is not available or not an option, take them to a tailor, a local fashion designer or your crafty friends to see what you can come up with. The end result might surprise you!
P.S.: In high school, I would cut up old t-shirts and re-design them into funky tops. No sewing machine required. I might get into that again!
Once you've mastered the craft of shopping your own closet and get over the "must have new things all the time" consumerism, you're on the right track towards living a more conscious lifestyle. It's small changes in our shopping habits that make a big difference. Between shopping your closet, buying second-hand (like items found at Goodwill San Antonio) and searching for sustainably made and ethical products, we can reduce our personal impact on the planet while still feeling and looking great. I know a big struggle is deciding whether to keep or toss a piece when it's something that I love, but it no longer fits or flatters my body. This one is tricky for many of us, because of the mindset of "maybe I'll wear it when I lose the weight" or whatever the case may be. And though I myself have reached those milestones in my personal wellness journey, I try to shift that mindset because I don't want my value to be measured by the fact that I could, at some point, fit into that dress that I wore 10 years ago. I do, however, keep things that are investment pieces, and transcend size and style. 
I'm aware that shopping your closet can seem daunting, especially when your mindset is stuck on having nothing to wear, so maybe it's an opportunity to enlist help. A professional stylist can assist in the inventory process, assess your needs, whether you dress for work, leisure, events, online or TV, the arts, your personal brand and everything in between. From my personal experience working with stylists throughout my career, many practice the "shop your closet" technique and don't necessarily intend to throw everything away in the very painful "What not to Wear" style. The goal really is to take a deep dive into your closet and have a professional teach you the magical ways to restyle and reinvent what you already own. Sometimes it's hard to see for yourself and we may even lack the creativity to see the possibilities because we've seen the same things over and over, and end up wearing or feeling like you're wearing the same 5 pieces. Maybe all you need is a minimalist capsule collection and feel freed by completely getting rid of every single thing that no longer sparks joy or fits your lifestyle. That's what a stylist can help with, making your life easy in this regard. We live in a very consumerist society, and while TV, Internet and social media make us feel like we don't have enough things, we can break free from that school of thought by shifting our mindset to create value with the beautiful things we already own and use it in a way that sparks creativity, uniqueness and a reflection of your personal style.