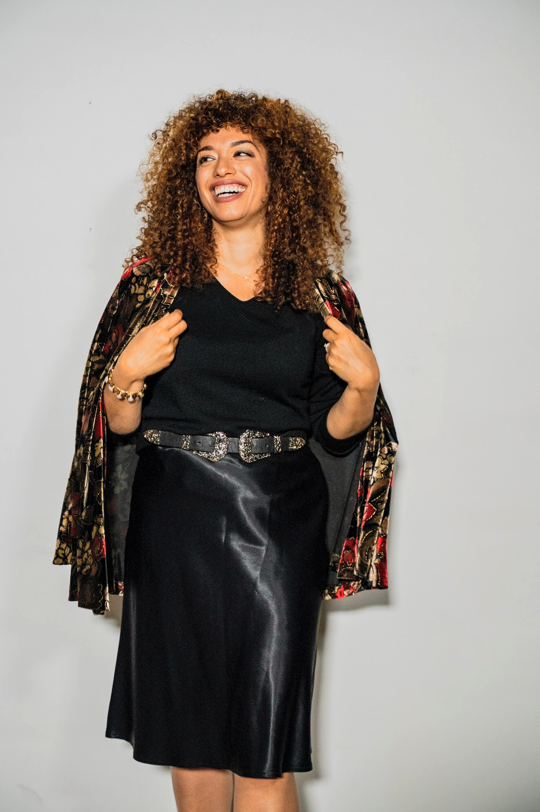 Let's Talk Fast Fashion
Hello everybody! Before I get into things, allow me to introduce myself! My name is Jeanelly Concepcion, and I'm a fashion blogger with TheFashionLotus.com. I created my blog in 2012 as a way to share my personal style journal, fabulous finds on a budget and exercise my creative side I didn't even know I had. This platform has lead me to a career in fashion I never even dreamed of. Today, I'm a Lead Style Contributor for Style Lush TV, an online fashion news network based out of San Antonio Texas, and Vice President of the Texas Fashion Industry Initiative 501c3, the first and only nonprofit dedicated to the positive growth of the fashion industry in the state of Texas. 

Why did this direction surprise me? Well, it's a far cry from my Environmental studies in Natural Resource Conservation & Management M.S., or so I thought. It turns out that I could actually use my passion for environmental awareness & sustainability, while combining it with my love of fashion in a way that 10-15 years was unheard of! The big buzzword in the world today is sustainability, and though it's taken a great deal of damage to the planet to get us to this point, I'm glad we're having this conversation. There is still time! Many companies are taking to safer, more eco-friendly practices, but fast-fashion is only a problem because of the increased demand.
So, what is fast fashion and why is it so dangerous? 
Fast fashion can be defined as cheap, trendy clothing, that samples ideas from the catwalk or celebrity culture and turns them into garments in high street stores at breakneck speed.
Good on You
"Fast fashion" is a term used by fashion retailers to describe inexpensive designs that move quickly from the catwalk to stores to meet new trends. As a result of this trend, the tradition of introducing new fashion lines on a seasonal basis is being challenged. Today, it is not uncommon for fast-fashion retailers to introduce new products multiple times in a single week to stay on-trend.
INVESTOPEDIA
An approach to the design, creation, and marketing of clothing fashions that emphasizes making fashion trends quickly and cheaply available to consumers.
Merriam Webster
So, basically, fast-fashion is extremely rapid production of clothing, shoes, accessories, etc., using cheap materials, cheap labor, to make it cheap for us, the consumers. What are the risks of fast fashion? Aside from the manufacturing machinery working at warp speed, requiring cooling agents that are harmful to the environment with emissions to the air and hot water dumping, possibly even cutting corners to increase production time and costs, there is also the issue of the cheap materials being used. Cheap textiles, like polyester, which is derived from petroleum, are linked to global warming and is now known to shed microfibers that add to the increasing levels of plastic in our oceans when it's put through a wash. The bigger picture, is the increased volume of clothing out there. Because fast fashion has to keep up with trends, we end up with millions of tons of clothing and textiles. What happens when things go out of style? We throw them away. Especially if the material is cheap and has broken or torn after a wash or frequent use. Fast Fashion is the precursor to Throw Away culture, due to the quickness of styles becoming obsolete. About 11 million tons of clothing per year in the U.S. alone ends up in landfills. There is also the issue in relation to the workers of fast fashion, from the farmers to the manufacturers. The harsh conditions, exposure to chemicals and low wages are a a threat to their physical and mental health, and is a violation to their basic human rights.
How can we counter the impacts of this phenomenon?
Second hand shopping and donation, for one. Entities like Goodwill are a clear cut solution to diffusing the situation. If you're looking to clear out your closet of your lightly worn clothing, handbags, shoes, accessories and even home goods, consider donating them. Of course, minimizing your closet makes room for new additions. I'm a big fan of vintage pieces, and mixing high end brands with low cost pieces. At Goodwill, I have  found a world of treasures from decades past, like the velvet shawl cardigan I'm wearing here. I've found name brand, and designer pieces at my local Goodwill that I probably wouldn't be able to afford, like this Eileen Fisher sweater I snagged! 
So, is Fast Fashion going green or in decline? Well, some brands have taken the approach of recycling clothes with a donation program while offering discounts to create new textiles for the clothes they sell. Some companies refuse to head in the fast fashion direction and stick to small batch, slow production in their manufacturing. Other entities, like Vintage shops and Goodwill promote the second hand approach. So, this is quite possibly the demise of a monster we ourselves, unfortunately, created. I believe that educating ourselves in the matter is the first step. The second step is asking yourself, "do I really need this?" or in the spirit of the recent popularity of the Marie Kondo method "Does this piece spark joy?" If the answer to those questions is NO, then maybe we should start taking the "less is more" approach to consumerism. You can't go wrong either way. Whether you decide to create a minimalist, capsule wardrobe, support the slow fashion movement or shop second hand, you are in fact contributing to counteract the damaging effects of fast-fashion. 

Sources: 
Stanton, A., The Good Trade, What is Fast Fashion, Anyway? 
Rautarier, S., Good On You, What is Fast Fashion?, 7, Aug, 2018
Photo Credit, Saige Thomas Photography @saigethomasphotography