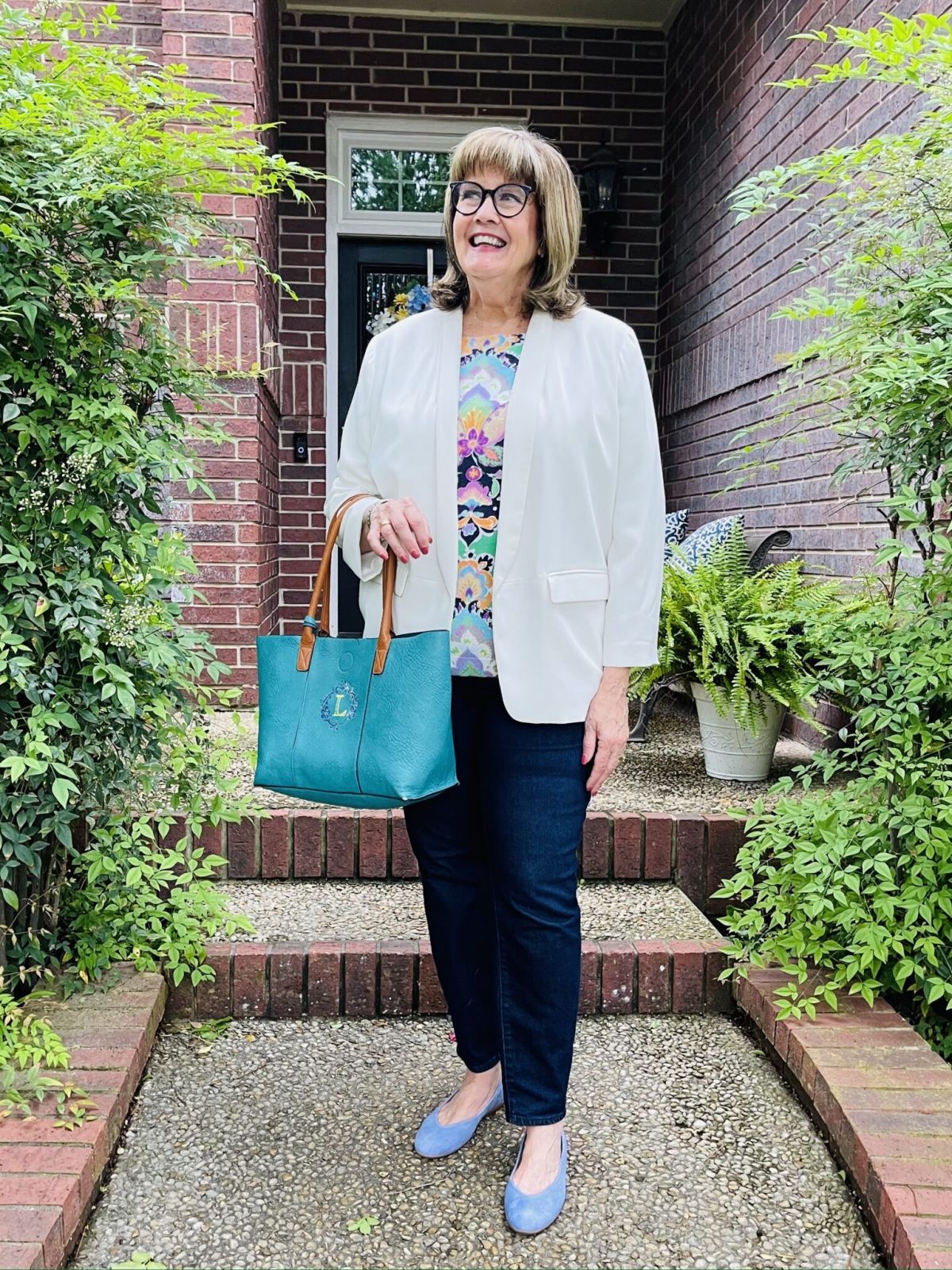 The Joys of Thrift Store Treasures
Happy first Sunday in May!  Today I want to share the joys of recent thrift store treasures!
I have written often about Goodwill San Antonio stores and how fabulous they are and to day is more thrift-treasure-proof!
Plus, it gives me great joy to know how much it is helping our community when I shop there.

I love this outfit and I put it together from two Goodwill locations…. found the wonderful light sweater from Chaps at Kohls in one trip. 

Then in another trip I found the leather tote with my initial on it…both pieces light new…and less than $5.
I added my own Talbot's jeggings, Chico's white jacket, and Naturalizer lilac ballet flats (link below) to bring the look together…and yes, it gives me joy and creates a huge smile!
Treasure hunting at great thrift stores is much fun for me and especially when I discover something I will wear often.
Thank you to everyone who gave me your thoughts on the phrase "affordable fashion" on Friday.
It was so interesting to read all of your opinions.  I am very much in the consideration of "cost-per-wear."  
That is why I have so many Eileen Fisher pieces…. I wear them over and over and over again and they are constructed to be sustainable.
I pay close attention to the pieces I go to the most and then evaluate why…so that I understand what my preferences really are.
When I want to have more fun with fashion, I go to Goodwill for that fun… it promotes sustainability and provides enjoyment for something I really love… fashion! 
If you want to step out of your comfort zone and try some quirky styles, then thrift is the way to go! 
To read the full article, visit Pam's website here.

Pam Lutrell is a fashion and lifestyle blogger for women over 50 to help achieve strength, confidence, joy, inspiration, and, of course, head-turning personal style!