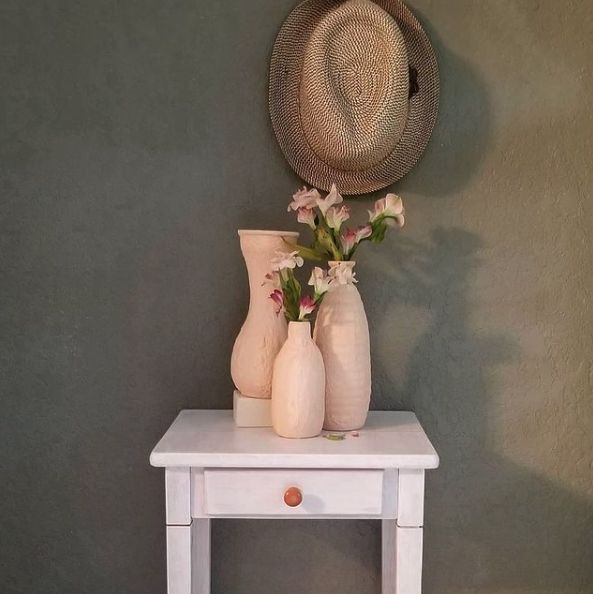 High-End DIY Pottery Vase
Are you ready to get your hands dirty? 
Giving you a fair warning, this DIY will be a little dirty and time-consuming, but extremely easy that even your littles may want to get in on the action! Patience is key here (wink, wink).  Have you come across the beautiful vintage pottery vases that have become pretty trendy now a days? These pottery vases have captivated the home décor and design world. All thanks to Pottery Barn, Joanna Gaines, Studio McGee and Target. As usual, I want it, and I want it all! However, these beautiful vases can cost a fortune. So, my only go-to option is a cool DIY to recreate a similar high- end look for way less. Here are some beautiful textured vases that can be a bit painful to purchase. 
The cost of these beautiful vases is $41.00 for each separate vase. Insane, huh??!!
Here's another beautiful vase with a black handle from a large pottery retailer:
This vase happens to be one of my favorites but they are priced from $50-$150! YIKES!!!
I have said this before, and I'll say it again, "THRIFTING is my jam!" For me, it's very therapeutic and extremely satisfying. But most importantly, I love how budget-friendly it is! 
A few weeks ago, as I strolled down the Goodwill aisles, I came across some vases. Vases that looked very insignificant and dull. Obviously, their beauty was not what caught my eye, but the potential that these vases had. As I placed these vases in my cart, I was quickly reminded about the expensive and textured high-end vases. I was inspired, but most of all, extremely excited to try in recreating these amazing vintage pottery vases with simple supplies I already had in hand. 
Take a look at the original thrifted vases…
Insignificant and dull, right?? There's absolutely nothing special about them. I hope you stay until the end to see how these vases turn out. You will not believe they're the same vases!
I have worked with joint compound before. It came in handy when I made my "Faux Brick wall" on my entryway wall and on a lamp… Yes, a lamp! I love the way the wall and the lamp turned out. So much so that I decided to give a try once again but this time on the vases.  It is very messy, but it also adds so much texture which I absolutely love. I figured using joint compound and paint will turn these "BLAH" vases into something grand, unique, and beautiful!
For this project you will need:
Vase (old or new)
Joint compound
Putty knife/Spatula(optional)
Gloves (a must!)
Paint of your choice
Paint brush
Sanding paper
The joint compound can be purchased at Home Depot, Lowes or Walmart. Get your gloves ready and a spacious work area covered with a towel/drop cloth because things will get messy real fast! 
Before you apply the joint compound, you have the option of spray painting your vase (preferably in white to camouflage with the compound). I personally did not use the spray paint. I went in directly with the joint compound, waiting a few hours to dry, and then painted the vase. 
Once you have your gloves on, grab some compound straight from the bucket and begin smearing it all over the surface of the vase. This here is key… there's no wrong or right way to do this, so don't be afraid to just start! You can apply one or two coats of compound depending on how thick you want it, allowing two hours between coats for drying. I only applied one coat and that was good enough for me. Also, don't forget about the inner ring of your vase! 
Now, you play the waiting game… tik, tok, tik, tok… Anyway, you get the point. I would recommend you painting the vases in the evening that way they have all night to dry. Honestly, I had a hard time waiting since I started first thing in the morning. Patience is not my forte. Especially for DIYs, I get so impatient. Anyone else as impatient as me?? YES! Join the club, sister!
You will notice that some areas may be a little sharp and rougher than others, once the compound has completely dried. This is where the sanding paper will come into play. Sand down your entire vase to get a smooth yet textured look. You will need to sand it down lightly, don't be so hard on the vase with the sanding paper. Trust me, sanding paper goes a long way with only a gentle touch. 
Once the sanding is completed, I then painted the vases with the color of my choice. On the grouping vases I used a matte acrylic paint in sun-kissed peach, and the matte acrylic black paint on the big (brown) vase. 
The beauty about the joint compound is that the possibilities are endless. So many textures that you can create with it. I was able to turn these simple, and dull vases to something unique and beautiful, and still be extremely affordable. Next time you scroll through the Goodwill aisles and come across some vases that may not be too attractive, unique or beautiful, know that there's more that what meets the eye!     
Think of the possibilities that can come in creating a beautiful textured pottery vase with the help of some joint compound and paint. Old and vintage pieces deserve some love as well. I love how simple changes will mostly always make a huge impact! I absolutely love the way these vases turned out. Also, if you prefer not to paint these vases and choose to just leave the joint compound as is, that too will give it that high-end, pottery look alike vase. But be sure to use a protective sealer to prevent it from feeling dusty or from chipping off, it's compound after all, which is very soft to the touch. 
Remember the brown vase?? Here's a before…
What it looks like now!
This vase will be bouncing back and forth from my dining room to my living room until I can score another cool vase like this one!
That is all folks! if you happen to give this DIY a try please be sure to tag me @cottageoffive or @GoodwillSA on IG, we would love to see your projects!