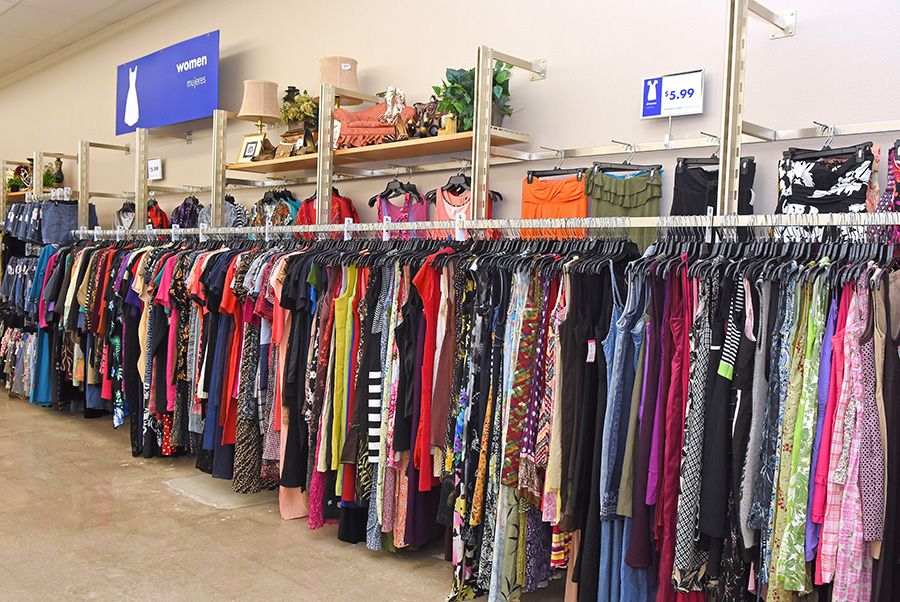 Getting The Most Out Of Your Thrifting
Hello readers!
This month I thought it would be a super fun idea to share with you all of my tips and tricks to make the best out of every Goodwill experience so you can see how easy it really is to strive towards a more sustainable lifestyle! I will start with general tips and then make my way towards a more fashion angle since that is my specialty during my trips.
GENERAL
Start the day early:

I know how inviting your bed might look in the morning, but as the ancient saying says: "The early bird gets the worm." Being one of the earliest people in the store lets you be one of the first ones to see what the store has to offer!
Give yourself time:

It has happened to me a lot where due to other things to do, I wasn't able to look around the entire store as closely as I would have liked. I would advise scheduling your trip with a generous 2-hour trip, but change this time as you see fit!
Take a thrifting buddy with you:

This is always a good tip for any kind of shopping. A thrifting buddy can help you with things as easy as being in charge of the cart to giving opinions on things you might consider purchasing. This is especially great for anyone that wants to try thrifting for the first time or if you want to have a fun shopping spree!
Take note of the color of the week:

Every week, Goodwill has a color of the week, which means anything with that colored tag will be half-priced! The color of the week is always announced on Sunday via Goodwill San Antonio's social media channels and is usually announced in-store, so keep an eye out for it!
Look around in all sections, you never know what you will find!:

I cannot even begin to count the number of times I have gone with my family to Goodwill to just have a "look around" and coming out with like 50 things. If you are looking for an affordable way to redecorate your home (like tables, chairs, etc.) or maybe look for some seasonal items for a fantastic price, I would definitely recommend keeping an eye out at your favorite Goodwill!
*Bonus tip: if you find something but have no space, remember there is a holding system good for a couple of hours (depends on your own Goodwill)*
Go around the store a couple of times:

Just like you, people decide last minute they don't want something, so they will leave it behind. By going around the store a couple of times, you ensure that you are really seeing EVERYTHING you might have missed the first time you went around.
Go to multiple locations regularly:

This one is an easy but effective one. Donations vary from location to location, so always make the effort to visit several locations to give you the best opportunity to get the most while helping your community. On the same token, new items arrive all the time, so maybe this trip wasn't as successful, but the next one is sure to be!


 
FASHION TIPS
Keep a Pinterest board:

okay, hear me out. You know those times when you see a cool outfit on Instagram, TikTok, Facebook, or literally anywhere and you think to yourself: "Wow, I love that!" and then you forget about it? Well, fear no more! With Pinterest, you can easily save all of your photos of outfit inspiration, new trends, and future upcycling projects! It has honestly helped me so much to keep track of what I am looking for.
Wear perfect thrifting attire:

This one is also SUPER helpful for when you are needing to try a lot of clothing: wear skirts/dresses, anything with elastics, tank tops, and/or non-lace shoes. These are great for being able to not waste too much time in the dressing room and keep hunting around! Another wonderful trick I have is to wear a neutral outfit, as this might help you see how pieces (especially patterned, textured, etc.) might look on you as the centerpiece and help you make a better decision on whether to get it or not.
Look through every single rack:

You might be thinking: "Eileen, who has time to do that?". But just like I said in one of the previous points, people leave stuff behind all the time, and sometimes they will leave them on random places, so the perfect pair of jeans, that statement piece to complete your whole outfit, or maybe just a basic piece your wardrobe is lacking is hiding there, waiting to be found by you!
Goodwill gift cards:

This is a perfect gift for any thrifter out there who you might not know exactly what they want: all Goodwill locations in the San Antonio area sell gift cards good in any of the Goodwill San Antonio store, not just the one you purchased your gift card from. This allows them to not only get something they really want, but an experience to go with it!
If any of these tips were helpful to you, I would love to hear all about it! You can tag me or DM me on Instagram at @i_love_thrift_thrills. As always, I hope this inspires you to immerse yourself in a more sustainable lifestyle or enhance it.
Until next time!