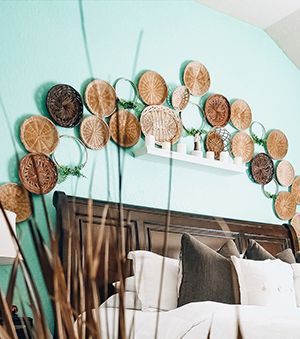 Easy DIY Basket Wall
Hey! My name is Valeria Martinez. I'm an army wife and a mother of three children. For years as a military family there was no consistency; no place to call home. Year after year it was just a temporary house without the 'home sweet home' feeling.  I have always loved nesting. However, six years ago it became more meaningful when we purchased our home. A nest to call our very own. 
I've always had a passion for home decor AND thrifting! I mean don't we all??! I love all things decor and budget friendly. Especially capturing that farmhouse style, along with mixing vintage and new trendy pieces. Here's my journey on how I style our home, our Cottage of Five (is what I like to call it), without having to break your bank account. Of course, with the help of GoodwillSA! 
I've always been a sucker for baskets! Why??! ... easy!
Baskets are very versatile.
There's endless possibilities when it comes to decorating with baskets. The best thing about it is that they are so affordable, and sometimes too affordable to pass up! — THANK YOU GoodwillSA!! 
You can find my love of baskets all throughout our home. They are mostly in my bedroom right above my headboard. Before this basket wall came about, I had been searching for something different and unique for that space. Your typical frames that can cost you a fortune. During my frequent visits to Goodwill, I was quickly inspired to buy all the pretty baskets for that specific space. Yes, ALL the baskets! That wall sure needed more than just a few baskets. It's a pretty tall wall with plenty of room to work with. 
I tried to make an arch out of these baskets right above the headboard to fill in all that space. All these baskets are a little different but I tried to keep the same color scheme with different sizes and different shapes. Added in some smaller baskets to fill in the holes or where it looks empty. Layering some of them gives it a different look. What can I say??!!
I'm fascinated! 
My vision quickly came to life and I couldn't be happier! This space got a quick facelift and to top it off it was super affordable! 
Sometimes, all it takes is just a little bit of creativity. Step outside the box and dare to make a space your own, one that you will love! Here are some images of the final result: