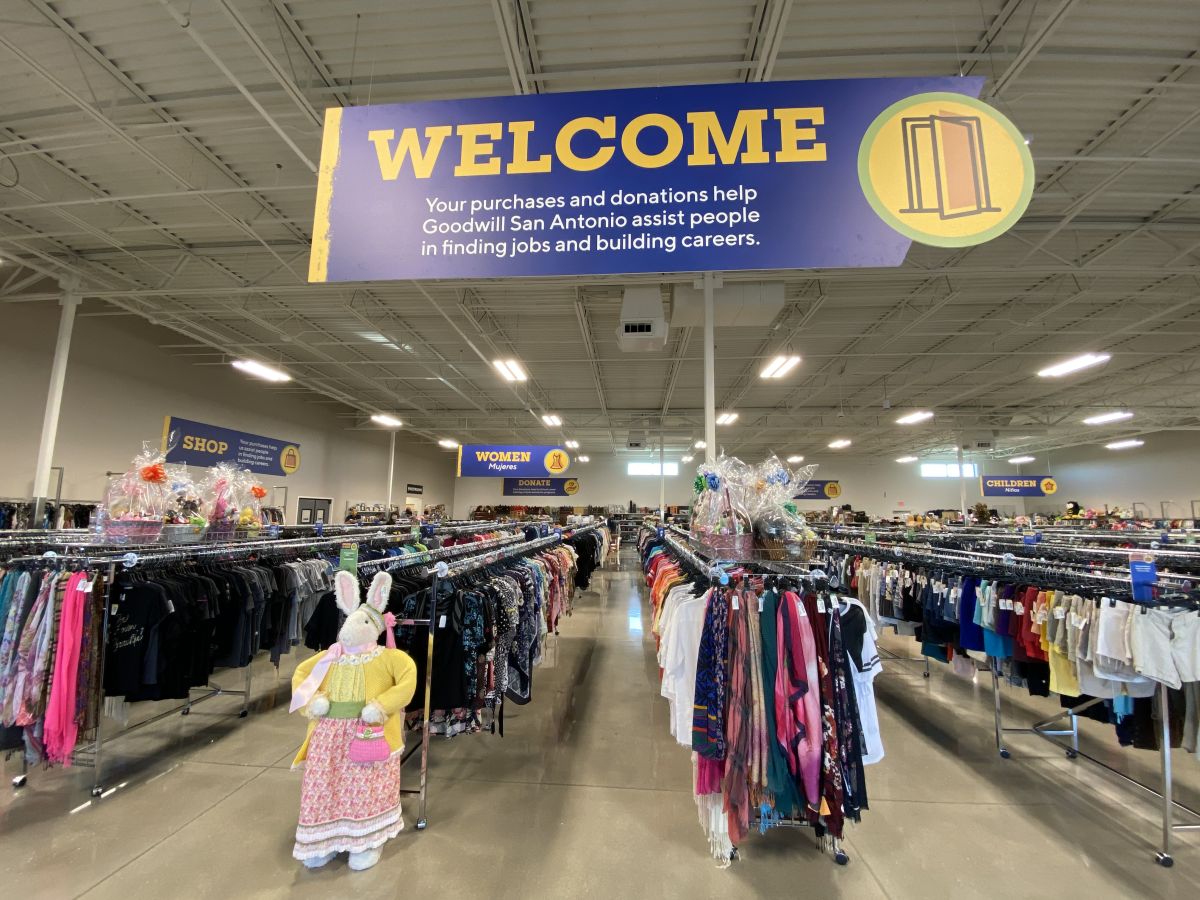 Contreras: You bet Goodwill San Antonio wants your donations – And here's Why
The old adage "one person's trash is another person's treasure" is certainly alive and doing very well here in San Antonio. A recent Associated Press article entitled "Goodwill stores have a message: Please stop donating trash" compels me to write this piece and unequivocally assure you: Goodwill San Antonio is beyond grateful for your generosity and continues to welcome and appreciate all donations entrusted to us. And, on behalf of my fellow local, nonprofit leaders who, in this community also fund critical programs and services by selling donated goods, they ask for your gently used items too.
Social enterprises such as Goodwill rely on donated goods to support our mission to help change lives through the power of work. Put simply, we receive your donated items and then sell your donated items to fund impactful workforce development programs and employment opportunities that benefit members of our community facing life barriers. Your donations are transformed to change lives.
Goodwill's collective goal is simple, yet meaningful: As responsible stewards of every donation provided to us, we strive to extract as much value as we humanly can from each item we are fortunate enough to receive. Goodwill is especially good at achieving this goal due to the generous spirit of our community. We sort and sell the best of what is donated through our 23 retail stores, stand-alone electronic store, clearance center, and via our online ecommerce auction site – shopgoodwill.com. Items not sold or not saleable in our stores are responsibly recycled. We do all of this in a socially responsible way providing affordable goods to the community that are reused and repurposed in a time when many people have lost jobs or have had wages reduced. And the sale of your gently-used donations, enables us to generate critical revenue to fund the reason we do what we do – to help PEOPLE – neighbors, friends and family gain employment and secure their future.
In the almost two months I have been onboard serving as Goodwill San Antonio's CEO, I have quickly come to understand and bare witness to how your donations are converted to positively impact the community in which we all live, work, and play. Your donations become real money that is invested into programs and services benefitting our local community. Goodwill's programs lead to measurable and meaningful results for our neighbors. This year we will directly employ more than 1,500 people, many of whom have a disability or a life barrier, with fair wages, benefits, and supportive services. Through our Good Careers Centers, we will place 1,000 community members into meaningful employment. And we will train more than 300 people through our Good Careers Academy, equipping students with marketable vocational skills leading to recognized industry credentials in high-demand career fields.
Whether it is an unemployed person who may have a disability, a neighbor who is recovering from substance abuse, someone who may have been incarcerated for a nonviolent crime, at-risk youth disconnected from education and employment opportunities, or a single parent wanting more for their family, Goodwill is proud to help everyone overcome barriers to employment. Your donations allow us to not only provide these services, but also expand our programs centered around our founding purpose to Fight Poverty and Create Opportunity.
Together, our impact is important — and impossible without your generous donations.
I appreciate the opportunity this article presents to further share Goodwill San Antonio's long standing mission impact. We have been priviledged to serve this community for 76 years, and while we have grown significantly since our humble beginnings, our foundation to help people advance through education and employment remains. Your gently-used items are the catalyst to incite this change and create opportunity to help a person thrive and gain financial security and stability.
So if you are upgrading your electronics or spring cleaning, feel good donating those items you may no longer have a use for. Each time you do, please know you are making an important difference. You're not just decluttering your closets; you are truly changing lives.
Carlos Contreras is the CEO of Goodwill Industries of San Antonio.