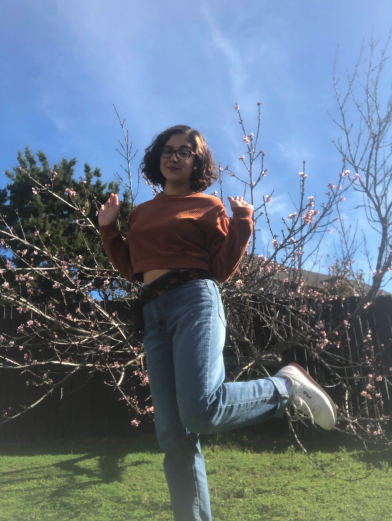 The Beginnings of a Thrifter
Ever since I was a little girl, I have always savored the art of hunting for deals. My mom has always thought me to save my money up and to this day. The VERY. FIRST. PLACE. I got to in any regular store I go to is the sale section. It is not unusual for me and my family to be seen at the yard sales around town and bargaining around at the flea markets. It is very hard for any of us to pass up a good deal when we see one. Undoubtedly, thrifting has become a very fun and inexpensive way to get that wonderful rush in the life of an everyday college student! 
I was first introduced to this concept through YouTube. As one does, I was going down the YouTube spiral and before I knew it, I stumbled upon a very foreign idea to me: THRIFTING. I remember being intrigued by the concept of this: Finding COOL clothes at a THRIFT STORE?! It seemed too good to be true. While watching the first video, I remember thinking "Oh, that's cute" or "I like the pattern of that!". Pretty soon I had seen all the 25 recommended videos, subscribed to 10 new YouTube channels, and was excited and determined to try it out for myself. 
I clearly remember my first time into a thrift store after I had become enamored with the sustainable fashion movement. Due to my inexperience, my trip was far from fruitful. I became tired really fast, only went through one rack, and due to my family hurrying me up, I was unable to even make it through half of the store. Needless to say, I was a little disappointed. How could everyone find such cool things and I was left with NOTHING? I decided that maybe San Antonio was just NOT a good place to thrift in (boy am I GLAD I was very off on that). 

My next couple of trips were similarly unsuccessful, but I decided to not give up. If I had learned anything from my thrifting role models AlexaSunshine83, Jessica Neistadt, and Twinelle, among others, is that not all trips are successful, but one must remain with an open mind and be prepared to be surprised. Through the flipping of the racks, the hours spent in one thrift store, and the millions of twirls in front of the mirror (whenever I was blessed with the presence of a changing room), I began to bloom as a thrifter. Now, it is my pleasure to say that more than half my closet has come from thrift stores around the beautiful city of San Antonio, and with it the chance to explore more and more ways to express myself with one-of-a-kind garments that range from vintage purses, hair scarves, skirts, sweaters, and shoes. 
The only downside to this whole thing is that now I have what I like to call "thrifting withdrawal" in which being away from thrifting in any shape or form makes me feel a little empty inside, but nothing a quick trip to the thrift can fix, right? As I am writing this entry, I have already messaged one of my friends asking her to go thrifting with me this weekend, so hopefully, I will be able to update my thrifting Pinterest board and hope that I don't "accidentally" end up spending half of my paycheck on everything that I lay my eyes on, but hey, that's just the beauty of thrifting! 
It's been such a wonderful year since I started my journey in sustainable fashion, I have been able to connect with so many people around my community and school, and now a fun weekend for me consists of rounding up my thrifting gals and hitting up the stores finding those unique things for our wardrobe (with some squeals when we find something REALLY GOOD included). My biggest hope is that for anyone out there reading, this is the sign you've been looking for to give thrifting a chance. I swear to you that armed with the comfiest sneakers, reusable bags, and more than anything, enthusiasm for changing the world one purchase at a time, what can I say but: Happy Thrifting!

Follow me here:
@i_love_thrift_thrills