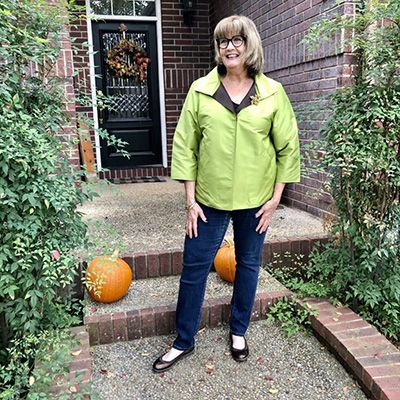 Autumn at Home: Thrifting fall clothing, fall recipes, and inspiration
That is what we do here... CELEBRATE autumn (while spending more time at home) by thrifting fall clothing selections, making fun fall recipes, and taking time for inspiration around us. 
This is the only season that has two names… fall and autumn.  Autumn is considered the more formal name and my favorite.  But, it seems more in online marketing prefer fall.
I think it to be interesting that only one season is like that!
TODAY'S OUTFIT:


SILVER LINING:  More time to thrift shop and I have loved every single treasure hunt this year!

On a few more posts, I want to show ways to "pump up" our denim and this green & brown silk jacket does that for me.  I discovered it recently during a treasure hunt at Goodwill San Antonio.

The jacket was $4 and I did have it cleaned. I really like it and love adding a fun brooch to the look.  Underneath I am wearing a brown tank top.
Link here to read the full article that includes an amazing Pumpkin Crisp recipe:
https://over50feeling40.com/2020/11/autumn-at-home-thrifting-fall-clothing-fall-recipes-and-inspiration.html
Pam Lutrell is a Fashion and Lifestyle Blog for women over 50 to help achieve strength, confidence, joy, inspiration, and, of course, head-turning personal style!