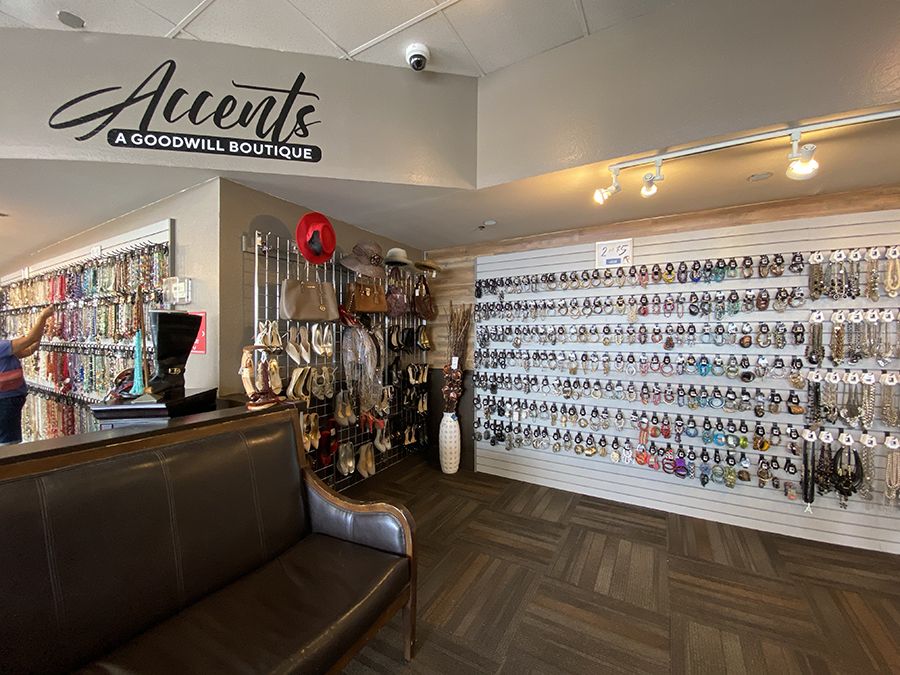 Accessorizing Your Fall Wardrobe
Hey guys! I am so glad you are stopping by to read this month's article and it gives you some tips and tricks as we head into the fall time! Why don't we get started?
Firstly, the biggest news this month came to me in the form of a wonderful email earlier this month. I received an invitation to attend the grand opening of Accents, the new Goodwill San Antonio boutique! This new store is not like traditional retail stores, as it specializes in accessories such as purses, sunglasses, earrings, and even some hats! 
The first time I went earlier this month, I was in awe about all the things I was able to find in such a small store! It took me about 2 hours to meticulously look around at everything the store had to offer; and it took slightly longer for my mom to look around everything. Even through my first round of looking around, I saw an amazing variety of Michael Kors, Coach, Dooney and Bourke, Guess, and so much more! Even though my favorite section was the purses for sure, the hat selection was breathtaking to say the least: they had so many different colors and styles, perfect for any kind of outfit and occasion. Let's not even get started on the sunglasses, jewelry, and belts, there must have been probably 1,000 items at least for all of these things.
As trips have become more and more frequent, my mom and sister went with me and left with some pretty amazing stuff. My mom got herself a basically brand new Coach purse and little wallet to match. My sister got herself a very trendy "baguette" Coach purse and some really cute staple earrings. 
My own haul was kinda small but oh so worth it. I got this retro bag (photo below) with the original tags still on. It gives me that 2,000's vibe that has been so popular as of late, not to mention that I have not seen anything like it in any store! My other purchase was an amazing pair of sunglasses that I cannot wait to wear, even if just a little this year, and then have as a staple for the next spring-summer season. My entire purchase was just $25 dollars, so definitely take the time to have a look around this amazing store if you can! If you are interested, check out a small TikTok that I made on the store here.
My other purchase this month was a complete statement piece if I might say so myself, and coincidentally, I happened to find it right next door to Accents. It is this wonderful pair of Polo yellow cargo pants; I am obsessed with yellow, so this being second-hand, in near perfect condition, and being the color of the week? I just had to have it! You can even see it here in my picture right in front of Accents on my second trip. These are light and so comfortable, so they are sure to be a perfect transition piece from summer to fall.
Although this month was a little slow since the weather has been changing a lot these past couple of weeks, I am beyond excited for the new fall season. Next month, come join me as I breakdown the fall-winter trends for you to do your own fashion scavenger hunt.
Don't forget to follow me on Instagram @i_love_thrift_thrills for more tips and outfits.

Happy thrifting and until next time!