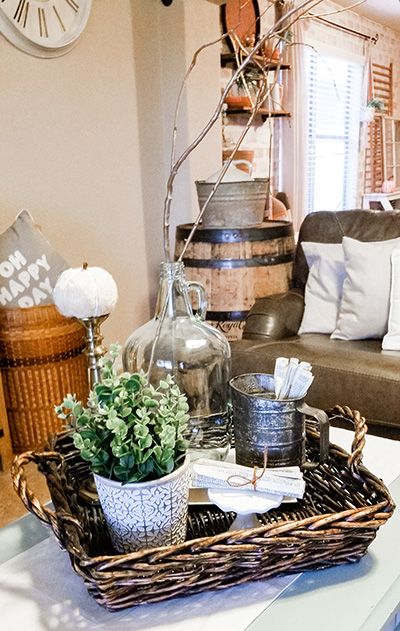 5 Tips for Creating a Farmhouse Style Vignettes
Hello there friends! I hope your Halloween was spook-tacular and full of tasty sweets! It was pretty adventurous around here, which was unexpected due to the pandemic. 
I'm here today to talk to you about vignettes. I've gathered up to 5 tips for creating a farmhouse style vignette with items I've been able to find in my local Goodwill San Antonio. 
You may ask what the heck is a vignette? Honestly, I too, was oblivious. I didn't know what vignette meant. I mean who uses that term, anyway? I sure as heck don't. All in all, it's just a fancy way of describing a small grouping of decor, that you may see on a coffee table, entryway table, a shelf, and perhaps at the center of a dining table. The idea is to gather a handful of items and style them together in a way that looks cohesive. However, it can be a little tricky to put together the right things and make it work. No need to fear, I will share a few tips that will hopefully help your vignette-styling process run smoothly.
1. Use a Tray
First things first. When putting a vignette together it's important to start with a tray or some kind of base. The key here is to have a foundation to build from. Don't we all need that foundation, after all? In this occasion, a tray is like your boundary that helps the vignette come together. Here's an example of a simple vignette I put together without a tray:
Isn't it cute? Perhaps. But it doesn't seem complete, right?
Now, let's add a tray and watch how it all comes together.
Violaaa!! It now looks complete and put together. When putting a vignette together, start by including a tray or a base of some kind and build from there. 
2. Greenery 
I love decorating with greenery because it always provides a pop of color to a fairly neutral vignette. If you're about to skip this section because you feel as though you have a black thumb, please hear me out first and don't ya fear! Faux greenery is my jam. As long as it gives that realistic look and possibly feel, I'm not opposing to it. In fact, I have quite a few faux greenery that I love to incorporate in my decor, and adding to my vignette is always a must! You can use any sort of greenery in any vase to create a perfect and vibrant vignette.
3. Old books
I've always been a lover for old/vintage books. Therefore, I ALWAYS include them in my vignette. Not only do they add texture and vintage charm, but they're also a great way to add height to any item. Speaking of...
4. Height
Another thing that is a must when putting my vignette together is height. Not only do I love texture, but I also love to incorporate height. Be sure that the items on your vignette are all varying heights. They do, however, need to be close enough in height so they feel as if they all fit together, somewhat like a puzzle. Yes? This basket here gives a lot of space to work with, so I included different items in this vignette. They're also all different heights. Everything staggers from the upper left, at the highest point, then it kind of slowly starts moving down in height. Everything staggers downward little by little, which I personally think really helps bring everything together.
5. Keep Cohesive Color Scheme
Creating a beautiful, cohesive color scheme look for your vignette will help pull everything together nicely. From time to time, I also love to incorporate a pop of color depending on the season/holiday. I added pumpkins on my vignette because it's currently fall. Plus, you can't ever go wrong with some cute pumpkins. We're people with different personalities and we tend to have different ideas on how we want our home to feel, and color plays an important role in providing that feeling. I'm obviously going for the farmhouse look, so I normally don't include a whole lot of bright and bold colors in my decor. But if that's what you like then by all means go for it! Just try to bring the colors together in a way that is cohesive. In my vignette you will notice the color scheme I went with is more soft, calm, and warm but they also complement each other. Again, that's just my personal preference. 
I hope these tips are helpful in creating a simple farmhouse style vignette. Please keep in mind that there about a billion ways you can style a vignette.  These are NOT rules, my friends. These are simply my suggestions and a few things I keep in mind when I'm styling a vignette. Your vignette, your style and do whatever makes you happy!  There's no wrong way to do it. Lastly, have fun with it and get creative! Grab a cup of tea, or coffee and style away!!